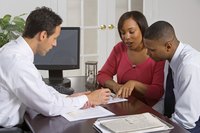 "Financial policy" is a general term referring to choices made about how money should be spent or saved. Financial policies can be found at the individual, corporate, and government level. In all three instances, the primary issue is how a limited amount of money should be allocated to successfully achieve predetermined goals.
Individual Financial Policies
The most common example of an individual financial policy is the concept of budgeting. While budgeting occurs at higher levels, it is most clear when examining an individual's financial policies because their income is typically more limited than commercial or government enterprises. For example, an individual must choose what amount of their money they need to allocate to basic necessities (such as groceries), paying off debts, and how much they can save.
Corporate Financial Policies
Corporate financial policies typically focus on how to invest their money into capital that will yield higher profits. Effectively, corporations attempt to spend money to make money. This may result in either short-term investments, such as directly purchasing instruments needed to finish a project or hiring new workers. It may also result in long-term investments, such as seeking long-term credit from a bank or investing in long-term funds.
Government Financial Policies
Government financial policies typically focus on how to stimulate the economy, and thus increase the wealth of corporations and individuals. There are varying schools of thought on how this is best accomplished. Some believe a sound governmental financial policy is to cut taxes; others believe it is best for the government to directly spend more money on hiring workers and creating new services for the public.