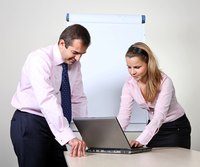 The rapid rise of new technology and an uncertain financial market means that business success takes skill, commitment and flexibility. Taking the time to develop personally and professionally will always pay off. If you are just starting out, hoping for a promotion or a budding entrepreneur, the same basic principles of communication, dedication and perseverance apply. Pay attention to these key areas if you're looking to get ahead in business.
Technical Know-How
When the first computers appeared in the 1940s, no one imagined that a few short decades later we'd all be walking around with more processing power in our back pockets than it took to get to the moon. You don't need to be a full-fledged programmer, but knowing your way around a desktop computer is a must. Learn the components of the Microsoft Office Suite, including Word, Excel and PowerPoint; familiarize yourself with an email clients such as Outlook and Thunderbird; and ensure you can navigate the internet.
Communication and Networking
Good communication is the cornerstone of any successful career. No one wants to work with a shouter, a flapper or a mumbler. In this very digital age, no 1 wantz to gt wrk msgs in txt spk. Simply using a spell checker on your emails will ensure a higher level of professionalism, and personal development courses can help you with fears of public speaking, social awkwardness and keeping calm under pressure.
Productivity and Planning
Careful time management and project planning might not sound exciting, but just a couple of hours every week put aside to plan can greatly increase your productivity. Once you can manage your own time efficiently, you're ready to move on to managing others.
Flexibility and Imagination
Situations can change in an instant, and even the best-laid plans can go awry. Having the imagination to work around unforeseen developments will help you shine in the workplace, as will the flexibility to implement vital change at crucial moments.
Education and Training
Long gone are the days of on-the-job training. Increasingly, employers want to see your academic record. Correspondence courses and evening school can let you improve your qualifications while still earning an income. Be prepared to take short courses to acquire basic skills in managing people or information technology, or to refresh the knowledge you already have.
Work/Life Balance
In an increasingly competitive market, it's hard to remember to switch off. Taking time out and figuring out when to stop will keep you from burning out and ensure that you have a long, happy and healthy career.