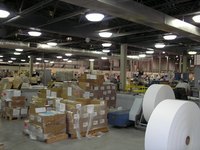 Inventory refers to a firm's resources that can draw economic income, including raw materials, work-in-progress, finished goods, consumables and stores. Inventory management involves determining the optimal level of a firm's resources and planning the processes to achieve it. Good inventory management contributes to the firm's overall goal of maximizing its profits.
Cost Minimization
Inventory management aims to meet a firm's inventory needs at minimum cost. This involves keeping just enough inventory to achieve business goals. For example, if a company has exceeded its customer satisfaction level target, it could reduce the amount of inventory it keeps. If a business aims to deliver its products within a certain number of days from the order placement, it should consider the location of its inventory, taking account of shipping times and costs.
Forecasting
A firm that can accurately forecast demand for its products can plan its inventory more efficiently. Demand forecasting helps the firm manage inventory, capacity and finances better and improves its customer service. A demand forecast can use historical data, estimates or both. The more data is available for forecasting, the more accurate the results will be. A firm can forecast demand over short, medium or long periods of time, but generally, short term forecasts will be more accurate.
Supply Chain Management
Inventory management extends outside the firm to involve the entire supply chain, which includes all the activities, processes and resources from the time the firm determines the need for materials until the customer receives the product.
Supply chain management requires managers to consider the big picture, including those elements that exist outside the firm such as suppliers, partners and alliances. Supply chain management seeks to achieve quick response to customer needs, to minimize costs through integration and coordination, to simplify processes and to use information and technologies effectively.