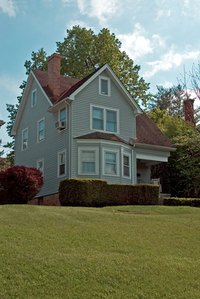 A jumbo mortgage is a loan that exceeds $417,000. The high amount of the loan forces many lenders to decrease risk by enforcing strict qualifying requirements. Borrowers with stronger credit and lower debt-to-income ratios can assure a lender's investment will not be a loss. The application process for a jumbo mortgage is very detailed and requires proper documentation.
Debt-to-Income Ratio
Creditors will look at the current debt-to-income ratio when reviewing an application for a jumbo mortgage. This represents the amount of debt as a percentage of total income an applicant can have to qualify for a jumbo loan.
Debt-to-income ratio should not be over 45 percent. As an example, if a person earns a total of $10,000 per month, monthly debt payments, including a mortgage, cannot exceed $4,500 per month.
Loan-to-Value Ratio
The lender will also take into consideration the loan-to-value ratio. This is the percentage of loan taken out compared to the actual value of the property. The loan-to-value should not exceed 90 percent, meaning a 10 percent down payment . For example, with a house valued at $525,000, the loan-to-value at 90 percent means a loan cannot exceed $472,500. Many lenders may actually require that the loan-to-value ratio not exceed 80 percent. If you only put 10 percent down, be prepared to pay private mortgage insurance.
Required Income
The required income depends upon the amount of the loan. Proof of income is required whether the borrower is employed or self-employed. The debt-to-income ratio becomes important at this point. As previously stated, the debt-to-income ratio should not be over 45 percent.
For a house that is valued at $525,000 with 20 percent down, the loan value is $420,000 with monthly payments of roughly $4,200 per month. With no other debt, the monthly income must be at least $9,333. If there are other monthly debt payments like car payments and credit cards, monthly income must be higher.
Credit Score
A credit score of 720 or higher is needed to get a good rate on a jumbo loan. A credit score a little lower than this, 660 to 720, can still qualify a borrower for a jumbo loan, however, the interest rate may be higher.