Creating easy holiday decorations is a great way to start a new tradition with the family or for a church group. By choosing easy projects, such as no-sew crafts, all adults will be able to participate. Share your holiday cards with your family as well as holiday guests by making a ribbon card holder or recycle your worn Christmas decorations with your kids and re-create them into a holiday wreath.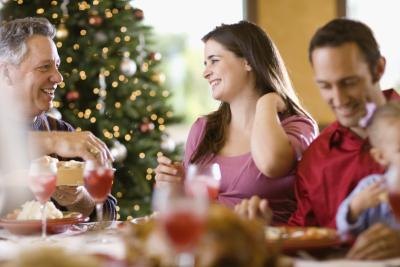 (Jupiterimages/Brand X Pictures/Getty Images)
Make brightly colored no-sew Christmas stockings as gifts for your church group or friends by including their favorite colors. You will need to draw a stocking shape on pattern paper in your desired size as well as mini Christmas shapes such as holly leaves, wreaths, stars, trees, presents and drums. Keep in mind you will be placing the mini shapes directly onto the stocking. To complete the no-sew project, cut out two pieces for your felt stocking as well as thin strips of fusible webbing and fuse together with a warm iron. Also cut out all your shapes along with fusible webbing and fuse with a warm iron as well. As a decorative alternative, add a contrast stocking band with a novelty ribbon.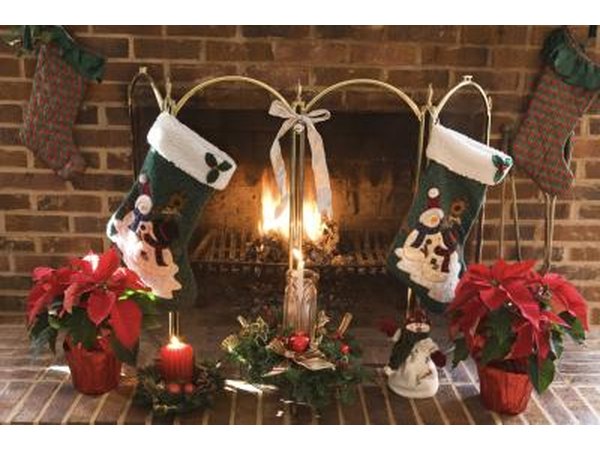 Thinkstock/Comstock/Getty Images
Share your holiday cards with your family, friends and guests by creating a ribbon card holder. Feature all of your cards by using a 2- to 3-inch width French wired ribbon, which is ribbon with thin wire encased at the edges. Make a large bow with the ribbon as the decorative top to the card holder. Also, if you have many cards to feature, cut several ribbons 36 inches in length and attach it to the back of your bow with your hot glue gun. Place Velcro dots on the back of your cards and ribbon, and hang your ribbon card holder for all to enjoy.
Comstock Images/Comstock/Getty Images
Create a family recycling holiday project by repurposing your worn Christmas decorations and transforming them into a no-sew Christmas wreath. Purchase a Styrofoam wreath base at your local art store and trace the outline onto pattern paper or onto a brown grocery bag. Although this is optional, it will help you arrange your ornaments on the traced outline prior to application. You will then wrap the wreath base with novelty ribbon or leftover gift wrapping ribbon and attach each ornament with your hot glue gun or use decorative pins. As a decorative alternative, tie a decorative ribbon to hang your new wreath.
Visage/Stockbyte/Getty Images
"Crafts For Dummies;" Leslie Linsley; 1999
Promoted By Zergnet