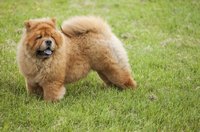 While it's not uncommon for certain dogs, both mixed and purebred, to sport dark, spotted pigmentation on the tongue, only two breeds recognized by the American Kennel Club actually have black tongues. Those breeds, the chow chow and the Shar-Pei, both originated in China.
Breed Standards
The chow chow breed standard calls for the tongue's edges and surface to be a solid blue-black shade, "the darker the better." The Shar-Pei's breed standard requires a solid blue-black tongue for most coat colors, with a spotted black tongue considered a major fault and a pink tongue disqualifying the dog from exhibition in AKC breed shows.
Spotted Tongues
If your mixed breed dog has spots on his tongue, that doesn't necessarily mean he boasts chow chow or Shar-Pei ancestry. Those spots are part of his pigmentation, related to other dark "points" on his body, including his nose, paw pads, lips and eye rims.