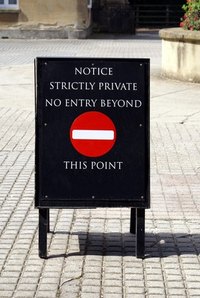 The Employee Retirement Income Security Act (ERISA) includes provisions that set minimum standards of operation and conduct for employer health insurance plans. A health insurance plan must be operated in accordance with these standards, which are intended to protect participants in the plan. Awareness of these basic rules permits employers to establish systems that maintain compliance with ERISA.
Anti-discrimination
Employers are not required to provide their employees with medical, disability, dental, or life insurance. However, once such benefits are offered, ERISA requires that employers adhere to federal laws prohibiting discrimination among employees. Distinctions in health benefit coverage cannot be made on the basis of an employee's gender, race, age, national origin, religion, or disability. These rules prohibit discrimination in health insurance benefits similar to discriminatory prohibitions related to hiring, promotion and termination. For example, an employer's health insurance program may not provide lesser coverage or cease offering coverage to older workers or workers who may become pregnant. The employer plan also cannot treat pregnancy-related disabilities—including miscarriage, abortion, and post-childbirth recovery—differently than other health conditions. An employer cannot refuse to provide coverage based on an employee's actual disability, a perceived disability, or genetic information.
Notifications
ERISA requires employers to provide participants in a health plan with specific information. The disclosures of information include details about plan eligibility standards, claim procedures, and participant rights. Basic features of the plan must be described in plain language. Plan participants must receive these notifications regularly and automatically.
There have been a number of amendments to ERISA that expand the protections available to beneficiaries of employer health insurance plans. One such amendment is the Consolidated Omnibus Budget Reconciliation Act (COBRA). This provides employees and their families with the right to continue their health coverage for a limited time after certain events, such as the loss of a job. Notifications provided by employers must include information about continuation coverage rights.
Another amendment to ERISA is the Health Insurance Portability and Accountability Act (HIPAA), which provides protections for employees and their families with preexisting medical conditions. This act protects anyone who might suffer discrimination in health coverage based on factors related to health. Other amendments include the Newborns' and Mothers' Health Protection Act, the Mental Health Parity Act, and the Women's Health and Cancer Rights Act.
Fiduciary
Health Insurance plans must be managed in the best interests of plan participants. This is a fiduciary standard under which plan administration is conducted solely to benefit participants in the plan. A fiduciary is required to act prudently in execution of the terms in the plan document. For example, by acting exclusively to benefit plan participants, a fiduciary should take steps to assure that a plan's expenses are reasonable.