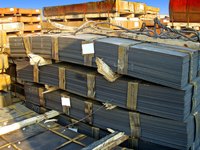 VG-5 is a highly-refined stainless steel with unique properties. It is not mass produced like some stainless steels and fits a specific niche, where pure steels with exacting alloys are necessary. The best way to understand the properties of VG-5 is to compare it to a simple stainless steel, such as 440.
Elemental Specifications
VG-5 is a high-carbon stainless steel with a carbon content of between .7 and .8 percent in comparison to the much more abundant 440 series which averages less than .7 percent. This gives the steel a much harder edge, making it ideal for knives and cutting tools. Unlike 440, VG-5 has a lower chromium content of 13 to 15 percent compared to the 16 to 18 percent found in 440. This creates a reduced resistance to rust and corrosion.
Heat Treatment
The 440 series is annealed, or made softest and most malleable, at 850 to 900 degrees Celsius. VG-5 has a slightly lower annealing temperature of between 800 and 850 degrees. Both steels have almost identical hardening temperatures, or the heat at which a quenching or rapid cooling results in a hard and usable edge. The 440 series should be brought to between 1,010 and 1,065 degrees Celsius compared to 1040 and 1070 degrees for VG-5.
Availability
The 440 series of stainless steels is mass produced and widely available on the Internet or at local steel companies. It is used in everything from cutlery to flatware, due to the reduced cost from mass production. VG-5 is a specialty steel that is very hard to find. Online retailers such as eBay that deal in small quantities of steel are the best sources for VG-5. Many knife manufactures buy bulk quantities of VG-5 from specialty foundries and sometimes sell scrap or excess quantities.