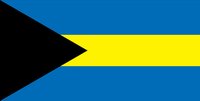 Once a haven for pirates, the 700 islands of the Bahamas now attract tourists from around the world. Most people know the island simply as a beautiful vacation destination and not much more. However, the Bahamas has a diverse array of topographical features, including it's highest point, Mount Alvernia, and the deep underwater trench known as the "Tongue of the Ocean." The island is also home to the third largest barrier reef in the world.
Bahama Banks
The Bahama Banks are large platforms of calcium carbonate limestone that make up an archipelago. Scientists believe that the platform was originally a part of what is now the North American continent and that it broke off when North America separated from Africa millions of years ago. At some point, these platforms were above the water. The Banks are approximately 4,500 meters thick and the surfaces can be steep in certain places. The crystal blue waters around the Banks are shallow and no deeper than 25 meters. Research on the Banks is conducted by the University of Miami and the Florida Institute of Oceanography. Researchers study the Banks to learn more about how the earth transformed over the centuries.
Mount Alvernia
Located on Cat Island, Mount Alvernia is the highest point in the Bahamas at 206 feet. It was originally called Como Hill but was renamed by an Anglican Monseigneur who became a Catholic Priest, Father James Hawes. Hawes named the hill after the Tuscan Mount Alvernia in Italy, where Saint Francis of Assisi is believed to have received the wounds of the cross. Hawes built a monastery atop Mount Alvernia called The Hermitage which still stands and is currently a tourist attraction.
Tongue of the Ocean
Separating the islands of Andros and New Providence is the Tongue of the Ocean. It is a deep underwater trench with depth within the trench ranging from 115 feet to over 6000 feet. The United States operates the Atlantic Undersea Test and Evaluation Center, which tests torpedoes and other devices within the trench. From the air, the Tongue of the Ocean looks like a large curve under the sea.
Coral Reef
Most of the islands that constitute the Bahamas have some amount of coral reefs surrounding them. Coral can also be found in the Lucayan Cave, which is the largest underwater cave area in the world. Additionally, just off the coast of Andros Island is the world's third largest coral reef barrier. It is 229 miles long and inhabited by sharks, crabs, lobsters, fish, turtles, dolphins, conch, manta rays and other marine life forms. Like all reefs around the world, the Bahamanian reef developed over thousands of years and is created from the skeletons of coral, which are slow growing lifeforms.