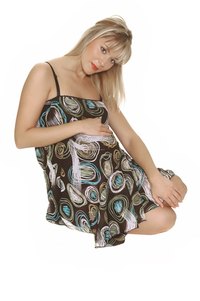 Don't automatically panic if your period is a few days late; it is quite common and there often is harmless reason for it. Your body is a delicate instrument and any number of things can disrupt it. A change of routine, medication or birth control is all it takes to get your cycle out of whack. If you can't figure out why your period is late or it is more than a week late, contact your doctor.
Contraception
Birth control pills sometimes change a woman's menstrual cycle. Depending on the type of pill you are taking, you could have periods only a few times a year. If you've recently switched to a new type of birth control pill, check with your doctor to find out if your cycle will be altered. Alternately, if you've just stopped taking birth control, it could take a few months to get your cycle back to a normal schedule.
Pregnancy
If you're period is late, your first thought is probably that you are pregnant. If you're sexually active, it is a definite possibility. When you are pregnant, the lining of your uterus isn't shed as it normally is; since you have actually fertilized an egg, the lining remains intact and you will miss your period. If you have other symptoms of pregnancy such as fatigue, nausea or breast tenderness, take a home pregnancy test and consult with your doctor.
Weight Loss/Gain
Gaining or losing weight can have an effect on your menstrual cycle. Losing weight can disrupt your hormones, which will throw off menstruation and could cause you to stop having periods altogether. Also, exercising too much can contribute to lack of periods or spotty cycles. Low body fat is a factor as well as using a lot of your body's energy.
Stress
Emotional stress can cause you to have a week-late period. Stress affects the part of your brain that controls your menstrual cycle. If you're feeling very stressed and your period is late, make a concerted effort to relax and your period will most likely return. See a doctor if you need to find ways to reduce stress in your life.
Disorders
Problems with the thyroid, hormones or pituitary gland can contribute to late or missing menstruation. An overactive or underactive thyroid can affect your prolactin level, which in turn affects your reproductive hormones. If your hormone levels are off, you could have something called PCOS (Polycystic Ovary Syndrome), which decreases your hormone levels and can cause absence of periods, weight gain and extra body hair. A tumor on your pituitary gland also affects your prolactin and in turn your periods. It's usually operable and not life-threatening.
Medicine
There are certain medications that interfere with a normal menstrual cycle. Antidepressants, corticosteroids, some chemotherapy medications and antipsychotic medications can affect the body's hormones and menstrual cycle. Your period may stop completely while you are on one of these medications.