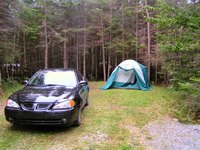 Free campgrounds can be found throughout the state of Michigan, usually off the beaten path. Some are maintained as official free sites by the U.S. Forest Service or Michigan Department of Natural Resources and rarely offer modern amenities. While some are intended to be temporary resting spots, others are conveniently located and are well-suited for extended stays.
Brookside Park, Otsego
Brookside Park offers overnight camping facilities for up to four RVs at no charge. The maximum allowed stay is three consecutive days, twice a year. Campers must register with the city first and lots are available on a first-come, first-serve basis.
City of Otsego 117 E. Orleans Otsego, MI 49078 269-692-3391 ci.otsego.mi.us
Kewadin Christmas Casino
The Kewadin Christmas Casino has free campsites built into its parking lot, with 30-amp and 50-amp sites available for free. The casino is located directly across highway M-28 from the Hiawatha National Forest campground and access to Lake Superior.
Kewadin Christmas Casino N7761 Candy Cane Lane Christmas, MI 49862 800-Kewadin kewadinchristmas.com
French Farm Lake
This rustic campground offers six free lots near French Farm Lake and is maintained by the Michigan Department of Natural Resources. Maximum stay is 14 days.
French Farm Lake Campground Mackinaw City, MI
Directions: Exit Northbound Interstate 75 at the Mackinaw City Exit. Turn left, heading south for about 500 feet. Take the dirt road just before Wilderness State Park. Lots are located at the end of this road.
Haymeadow Falls
This rustic campground offers 10 free sites and is located deep in the Hiawatha National Forest. There are pit toilets and pump water is available. Nearby Haymeadow Creek offers excellent trout fishing. There is very little maintenance done by the U.S. Forest Service of these remote sites.
Haymeadow Falls Escanaba, Michigan
Directions: Take County Road 509 from Escanaba. Campground is located just north of Rapid River, Michigan.