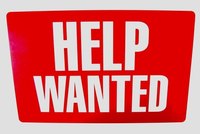 A company can make or break itself by how effective its recruitment program is. Depending on your company, a customized plan should be drafted to find the type of staff your business needs. Don't overspend on advertising if you don't need to. An expensive advert in the paper might not be as effective as a simple bulletin at a local high school or college, if you need unskilled employees. Other companies make mistakes when selecting management material or staff for new openings. Neglecting to recruit from within can create resentment from existing staff. It is important to have a good understanding of employment, and discrimination laws to ensure that you are recruiting legally.
Traditional Recruitment
For most unskilled and semi-skilled positions, traditional practices do still work in the modern job market. Examples of traditional hiring practices are newspaper classified section ads, help wanted signs and word of mouth. Putting effort into making a pleasant workplace for your current staff, and offering a referral incentive program can speed up recruiting. Having a good benefit package also grabs the interest of would be employees. The activities in the traditional method typically involve an ad, or application form which management refines into a shortlist. After the shortlist is decided one on one interviews are arranged and a candidate is chosen.
Online Recruitment
In recent years the average person has become more technologically inclined than ever before, online job hunting and recruitment has come to the forefront. Avoid the potential pitfall of using only one recruitment website though, having a presence on several major players in the online job market at one time will increase your likelihood of finding the right person. Unlike newspaper ads which require a very brief description, an online ad is only likely to draw interested candidates if it is detailed and clearly outlines the job to be performed. Searching for candidates online is a good option when looking for candidates with a more specialized skillet, particularly those in the internet technologically field. Online recruitment can also take the form of a company website which directs candidates to participate in pre-employment testing activities.
Competitive Selection
One way to achieve a competitive work atmosphere is to use group interview and testing methods. Ideal for a second interview setting, group testing can take a simple computerized problem solving, IQ, personality and ethics testing. More complex group hiring selection scenarios can have the recruits split off into self arranged groups and compete a moderately difficult objective. This method works well with creativity oriented jobs such as writing, engineering or software design.