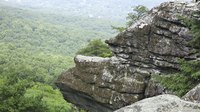 Lookout Mountain visitors enjoy its Appalachian scenery and host of attractions. Its landmark tourism sites include the world's steepest passenger rail, underground falls at Ruby Falls and Rock City's Lover's Leap from which seven states can be viewed. A variety of cabins and chalets provide a base station for Lookout Mountain visitors.
Camping Cabins on Historic Land
Located 12 miles east of Lookout Mountain, Best Holiday Trav-L-Park of Chattanooga occupies an authentic Civil War battlefield. It offers three types of cabins in a traditional campground setting. All cabins and cottages have electricity, heat, air conditioning, a refrigerator, water spigot and fire ring. Rustic cabins sleep up to five guests. The Loft unit sleeps five and adds a microwave, cook-top, cable TV and screened porch. The Bedroom Cottage accommodates six guests and adds a shower to the amenities. Bring your own linens and towels. The year-round park offers Wi-Fi, a swimming pool, a children's playground, basketball court, horseshoes, a laundry room and camp store. A monument commemorating the battle fought on the property sits along a wooded walking trail.
Budget Cabins with a View
Enjoy scenic views of Lookout Mountain from the nine log cabins at Raccoon Mountain RV Park and Campground. Situated 7 miles west of Lookout Mountain, its cabins sleep from four to seven guests and offer a range of amenities. Each unit provides heat, air conditioning, linens, a grill, fire ring, picnic table and porch. The basic unit located near the bathhouse is without plumbing, but others offer a half or full bath, refrigerator and microwave or a full kitchen, and cable TV. Campground amenities include a seasonal swimming pool, playground, basketball court, go-karts and mini golf. The year-round facility sits adjacent to Raccoon Mountain Caverns, a 5-mile cave system. Explore the natural caves via guided expeditions and tours.
Cabins Plus Family Activities
KOA's Lookout Mountain Chattanooga West campground and cabins provide a casual resort environment with on-site activities. Just a 22-minute drive to the landmark Lookout Mountain Incline Railway, the year-round facility offers several cabin options providing a private setting within the 37-acre park. Each unit offers cable TV, air conditioning, heat and a porch. Choose from one- and two-bedroom units sleeping up to four people, and amenities ranging from a half-bath to a full bathroom and a full kitchen. Bring your own linens. Cabin guests have use of the swimming pool, disc golf course, hiking trails and camp convenience store. Among the organized activities offered during summer months are gemstone panning and outdoor bowling.
Vacation Rental Firm Options
Rental companies provide a variety of additional mountain cabin choices. Among the properties offered by Lookout Mountain Vacation Rentals is Windsong Chalet. Nestled on the side of the mountain and surrounded by trees, the colorfully painted chalet sleeps four. The unit offers a bathroom, full kitchen, hot tub and Wi-Fi. Situated on a western mountain bluff, the three-level Stone Ledge Cabin sleeps up to seven guests. It offers a full kitchen, bathroom, stone fireplace, three TVs and sweeping vistas of Lookout Valley. Vacation and Executive Rentals of Chattanooga offers a variety of properties, including Old Hickory cabin. The mountainside three-bedroom log cottage sleeps up to six people. Amenities include a full kitchen, fireplace, Wi-Fi and a stocked fishing pond. The properties are minutes from Chattanooga and Lookout Mountain attractions.