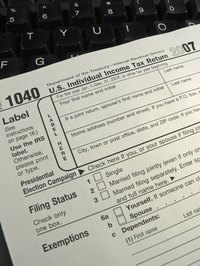 Caring for children while parents are at work or out for a night on the town is a great part-time job for teenagers and for other people as well. As the Bureau of Labor Statistics notes, babysitters often take care of children in multiple families and receive jobs and payment on an hourly basis. Although babysitting arrangements are often informal, the Internal Revenue Service (IRS) considers babysitting money as taxable income that you must report properly.
Dependant Status
The IRS has different rules for filing taxes for people who can be claimed by another person as a dependent. If you are under age 18 and unmarried, you have to report your babysitting income once you reach $5,800. If you are single and 65 or older, you have to report babysitting income over $7,250 Married babysitters under age 65 have to report income over $5,800. Those over 65 have to file taxes after earning $6,950.
Taxes
The IRS considers babysitters independent contractors unless there is clear evidence of employee status, such as an employment contract or control over how a babysitter does her job. In addition to regular income taxes, independent contractors are also responsible for the self-employment tax. The IRS asses this tax at 13.3 percent as of 2011, and it includes Medicare and Social Security payments.
Deductions
You can lower your taxable income and tax liability by deducting certain expenses you incur from babysitting. Allowable deductions include transportation costs, equipment and materials used strictly for babysitting and a portion of your housing costs if you babysit from home.
Payment
The IRS requires self-employed people to pay estimated taxes quarterly, or every three months, to avoid fines and interest. Use your first quarter's income to determine your projected income for the year. If your income changes throughout the year, estimate as best you can and make sure to keep good records so you can reconcile any differences when you file your tax return at the end of the year.