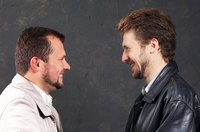 Conflict exists when the interests, goals or values of parties interfere, or are presumed to interfere, with one another. Conflict will always exist whenever people get together in groups. Conflicts can result from poor communication, weak leadership, confused goals and a feeling of helplessness or not being consulted. Good managers are familiar with the basic concepts of conflict management and use these tools every day to resolve problems and anticipate future ones.
Competing
In the competing, or "forcing" technique, one party firmly pursues his or her goal despite the resistance from the other party. This may require forceful standing up for your own rights and position, resisting pressure from the other party. Though this may adversely affect the relationship with the party, it can result in increased self-esteem and respect from others. This method should only be used when other methods fail or are not available, according to PersonalityExplorer.com.
Collaborating
Also known as the "win-win" technique, collaboration requires an attempt to work with the other person to find a solution that satisfies both parties. Underlying the technique is viewing the conflict as an opportunity to identify underlying concerns and finding alternatives that meet each party's needs. The collaborating technique reinforces mutual trust and respect and builds a foundation for similar solutions in the future. This method may take more time and effort than other techniques.
Compromising
This technique searches for a partial satisfaction for all parties needs. It may be the best method in those cases where the case at hand does not warrant more strenuous efforts and can be used to reach temporary settlement of complex issues. It can also be used as a "first step" in cases where the conflicting parties do not know each other well. This method can bring quick results when time is a consideration for an action. It also lowers tension between the parties. Unfortunately, it may produce an outcome in which neither party is satisfied.
Withdrawing
This technique, also known as "avoiding," can be used when the issue is trivial and not worth holding firm to a position. It can also be used to postpone an issue to a more advantageous time, for instance, to a time when you are prepared with more information to back your case. It can also be used to diffuse hostility over minor issues. Though it can lower stress in a situation, it may also weaken your position in future negotiations
Smoothing
Also known as "accommodating," this technique considers the concern of other parties before you own. It is used to reduce stress in a negotiation and buy time until you are better equipped to push back. The technique can also be used strategically when competing would be detrimental to your goals. It can help to protect more important goals while allowing others to have less important ones. This technique should be used with care to prevent others from expecting smoothing behavior in all circumstances, according to ManagementHelp.org. Smoothing can also be detrimental to team efforts within your group.