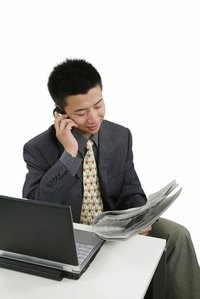 According to the University of California, Berkeley's "Guide to Managing Human Resources," performance objectives are broader than job standards and are aimed at achieving organizational goals. There is no definitive list of key performance objectives because they are tailored to each employee's tasks and responsibilities. There are, however, certain features that key performance objectives should all have. Objectives with these features are known as the S.M.A.R.T. performance objectives (specific, measurable, attainable, relevant and timely).
Specific
Key performance objectives must be specific so that they can be accurately measured. An example of an unspecific key performance objective: to have excellent sales figures. This is not specific so it is impossible to know if it has been achieved. A specific key performance objective would be to have a sales volume of $50,000 or greater for the year. It is then possible to evaluate whether the key performance objective has been met.
Measurable
Key performance objectives must be measurable. If an objective is not measurable then it cannot be evaluated. An objective, like increased synergy, is not measurable in and of itself. You must, therefore, define specifically measurable aspects of synergy (for example, to create 30 percent of new products using interdepartmental teams).
Attainable
Key performance objectives need to be attainable. If objectives are set unreasonably high, then employees will feel demotivated because they are unable to achieve them even when they do everything properly. This leads to employees feeling that there is no point in trying at all, which is the opposite of the intended effect of key performance objectives. You want employees to have to work hard, but their objectives need to be realistic.
Relevant
Key performance objectives should be relevant to each employee's position. A relevant performance objective for your materials purchasing agent might be keeping costs below a certain threshold. Return on investment would not be a sensible objective; however, it has nothing to do with her position. If key performance objectives are not relevant then there is nothing that an employee can do about them and they will likely be a source of stress.
Timely
Key performance objectives need to be timely. If you give an employee an objective like increase market share by 25 percent, that objective is meaningless if it does not have a relevant time frame attached. The objective should include a specific time line--for instance, to achieve the goal in the next quarter or next year. The time frame should be relatively short so that you can measure achievements regularly.