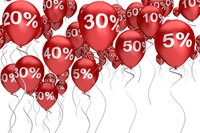 Setting prices for products or services is so important to businesses that pricing is considered one of the four cornerstones of marketing, along with product development, place of sale and promotion. Pricing strategies create potential risks and rewards that sometimes offset each other. Understanding what can happen when you change existing prices or create introductory prices will help you set the right strategies for your company.
Change Perceived Value
When you raise or lower prices, you can change the perception of your product's value in the eyes of consumers. Some businesses purposely set their prices higher than their competitors because a segment of consumers believe a higher price means the product is better. Lowering your prices can lead consumers to believe that your product is a better value, or it can make them think you have a cheaper-quality product.
Invite Competition
Depending on your marketplace, you might be able to raise prices without initially losing sales. However, raising prices to increase profits can open the door to new competitors entering the marketplace, who can now sell at a lower price and take enough market share to make a profit. Some businesses sell at lower prices than they must, specifically to make it difficult for new competitors with higher start-up costs to enter the space.
Decrease Margins
If you lower your prices, you decrease your profit margins, which is the amount of expenses you subtract from the sales price of each unit. For example, if you sell a widget for $3, and it takes 50 cents to make each widget and $2 per widget to run your company, your profit margin per widget is 50 cents. If you decrease your prices without decreasing your expenses, you shrink your margins. This might not be a bad thing if a price decrease increases the number of widgets you sell enough to increase your total profits. When looking at price changes, estimate the effect each price will have on your total sales volumes to determine if your new margins will generate increased or decreased gross profits.
Reduce Sales Volume
Price sensitivity, or elasticity of demand, is when sales rise or fall based on prices. If you raise your prices, you might increase your margins, but you also might decrease your sales volumes. In some cases, your sales volumes will only decrease a small amount, providing you with a higher total profit even though your sales volumes are lower. However, if your sales decrease enough, your total profits can shrink below where you were before the price change. When you lower prices, your sales volumes might increase, but not enough to make up for your decreased profit margin. Recalculate your profit margin per unit, taking into account potential new sales volumes, when considering a price increase or decrease.
Lose Customer Loyalty
Customers sometimes stay with a product or service because they are comfortable and not interested in change. When you change prices, your customers might feel it's time to try one of your competitors, which can lead to a permanent loss of their business, or at least a decrease in the amount they purchase from you as they begin splitting their purchases between you and a competitor.