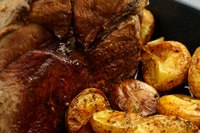 While the traditional fare of steaks, burgers, chicken and pork might dominate the restaurant landscape, adventurous diners sometimes want to try…something else. Diners in Michigan have a number of options to introduce their palate to new tastes. A number of restaurants located throughout the state cater to the wild side of diners' changing preferences by offering game not usually associated with dining out.
The Moose Preserve
Wild animals have been a common sight in the Detroit metropolitan area since 1990. After its opening for business in Bloomfield Hills, diners have been venturing to The Moose Preserve for some woodsy flavor. An appetizer platter of spiced venison, pecan-crusted duck tenders, rabbit ravioli, whitefish pate and barbecue buffalo balls is a favorite pass-around dish. Rustic decor and a hunting lodge ambiance utilize antlers, animal heads and life-size wild game replicas to create an upscale atmosphere. Casual diners can come as they are and feel comfortable amongst the pool tables and televisions in the bar and grill. "Road Kill" is even on the menu. The cheekily-named entree is a combination platter of roast venison, broiled quail and wild boar sausage served with a Minnesota wild rice casserole.
The Moose Preserve 43034 N. Woodward Ave. Bloomfield Hills, MI 48302 248-858-7688 moosepreserve.com
Rowe Inn Restaurant
Located on the shores of Saint Clair Lake in the northern Michigan hamlet of Ellsworth, the Rowe Inn Restaurant is designed to create the illusion of a French country inn. Since 1972 the eatery has been sourcing local ingredients to create seasonal menus prepared utilizing traditional French cooking techniques. Rotating menus are designed to take advantage of fresh food presented in an upscale atmosphere without the formal pretense associated with traditional French restaurants. Wild game is featured depending on availability and may include dishes such as venison osso busco or duck magret served with a balsamic dried cherry sauce.
Rowe Inn Restaurant P.O. Box 246 6303 E. Jordan Rd. Ellsworth, MI 49729 231-588-7351 roweinn.com
Oscar and Joey's Roadhouse
Proof of reincarnation can be found at Oscar and Joey's Roadhouse in Birch Run. Originally opened in 1987 as Dixie Dave's Old Dixie Inn the restaurant took a self-imposed nine-month hiatus in 2009. Oscar and Joey's opened in January of 2010 under the new name and still features Dixie Dave's wild game inventions that helped to make his cooking a 20-year regular feature on Outdoor Magazine's television program. Guests can now peruse a specialty menu that features seven or eight rotating wild game entrees. Entrée items may consist of alligator, elk, wild boar, venison, buffalo or other exotic creatures. Stuffed bear heads and antlers adorn the walls and tip diners off on what they might expect to eat.
Oscar and Joey's Roadhouse 12027 Dixie Hwy. Birch Run, MI 48415 989-624-9349