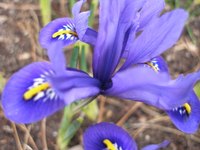 Gardeners enjoy flexibility with iris flowers. Types of iris include ground-cover iris (crested iris), the average-height iris (bearded iris) and the tallest and most colorful blooming iris (Japanese iris). Some iris flowers prefer alkaline soil, others prefer acidic soil, and still others flourish in soil located in shallow water.
Iris Cristata (Crested Iris)
Commonly known as iris crested or crested iris, this particular type of iris flower is the shortest iris type, growing no more than 6 inches in height. The crested iris flower works well as a ground cover plant, and blooms in a range of colors including blue, violet, white and yellow. Color combinations also abound in pale to a deep purple, with yellow crests and purple-spotted iris with white centers.
The iris cristata is successfully grown in planting zones 4 through 8 and needs full sun and well-drained soil. This perennial flower is native to North America and is easy to care for, according to Cornell University. The crested iris is a non-invasive plant, but gardeners will have to divide the flowers every 3 to 4 years, in the early fall, to aid in propagation.
Iris Germanica (Bearded Iris)
Some bearded iris flowers grow well in slightly alkaline soils, while others prefer acidic soils. This flower, which grows from 6 inches to 3 feet tall, should be underfed rather than overfed. Overfeeding this type of iris can cause it to bloom poorly. Poor flowering of the bearded iris can also result from not planting the flower in full sun, planting it too deeply, or allowing the iris flowers to become too crowded before dividing them.
Bearded irises are generally purple or blue in color and have yellow centers, but they can also be found in lavender, peach, red, white and yellow. This iris flower type needs full sun, well-drained soil, and plenty of room to expand in order to grow successfully and avoid disease in northern climates.
Iris Ensata (Japanese Iris)
The Japanese iris requires a minimum of six hours of full sun, and produces the largest and most spectacular flowers of the entire iris family. Blooms appear in an array of breathtaking colors: wine red with white rays; white with a wide band of blue, red-lavender, blue-violet, or red-violet; creamy white; lavender; purple; and white. Unlike other iris flowers, the Japanese iris can grow successfully in wet conditions, including shallow water. This iris can grow as high as 3 to 4 feet tall.