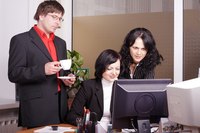 Many managers rely on what has gone before when attempting to run a business or lead an organization. Sometimes this works, and sometimes it doesn't. Leaders who are aware of current conditions and adapt their leadership style to reflect these conditions, rather than continuing with an obsolete script, are more likely to successfully motivate their employees and co-workers and to maximize the talents of everyone involved.
Team Structures
Many minds working together often create synergistic ideas that would not have appeared in any single mind. Organizing teams of innovative people can lead to unexpected solutions. Ideally, employees or members of an organization can work in teams of their own choosing; this creates teams based on natural affinities between people and reduces the chances of interpersonal conflict. Teamwork sessions can be interspersed with solo work to allow a productive variation between solitary contemplation and mutual motivation.
Organizational Brainstorming
An organization that needs to come up with a new idea, solve an intractable problem or develop a productive course of action often needs the input of everyone in the organization. With moderation by a skilled organizer, occasional meetings that include the entire organization can develop innovative and creative solutions. Employees who feel their ideas and concerns are listened to and taken seriously will be more motivated and more loyal to the organization, as well as more creative and happier.
Incentives
An hourly wage, even a good one, is not always the best way to maximize employees' innovative or creative efforts. By instituting incentives that depend on the success of the organization as a whole, rather than solely on the number of hours a worker puts in, you can tie the success of the organization to personal success in employees' minds and create a desire to think and work in new and different ways. Incentives can be purely financial, or they can be more creative in the form of gifts, vacations or recognition.
Library
Having a well-equipped organizational library and encouraging employees, affiliates and management to use it can enhance general organizational creativity and innovation. Providing easy access to inspiring and educational books and cutting edge journals, magazines and newsletters in your field gives people the opportunity to keep learning throughout their careers and to keep contributing in new ways.