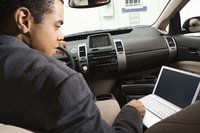 Individuals are somewhat limited in what they can deduct on federal taxes, but the sky is the limit for small businesses. With a few exceptions, any cost you incur while running your business is tax-deductible. Review general business expenses and scrutinize often-overlooked deductions to ensure you don't miss anything.
Tax Deduction Rule of Thumb
For the most part, a company can deduct any cost or expense incurred running a business. There are a few one-off exceptions here and there. For example, businesses can only deduct half of meals and entertainment costs and are very limited in deducting business gifts. Also, S corporation owners must deduct their health insurance premiums on their personal tax return rather than as a business expense. Assets purchased, like cars and buildings, must be depreciated over a few years rather than expensed immediately. Other than that, any legitimate business expense that you incur is probably tax-deductible.
General Business Expenses
All the general expenses you incur to run your business are usually deductible. Rent, salaries, marketing, loan interest, credit card interest, software, postage, taxes, travel, utilities, benefits, supplies, professional fees, telecommunications and miscellaneous fees are all deductible expenses. Half the balance of your meals and entertainment expenses is deductible. If you are a sole proprietor and you work from home, you can only deduct rent through the home office deduction. To qualify, you must have a space in your home that you use exclusively for business.
Cars and Travel
Business travel, like trips to see clients, pick up supplies or attend conferences, is tax-deductible. If you purchase a vehicle and use it solely for business purposes, you must capitalize and depreciate the vehicle. If you do this, you may deduct car maintenance, registration, insurance and repairs as separate expenses. If you have a vehicle that you use for both work and personal affairs, it's simpler to use the IRS standard mileage deduction rate in lieu of calculating actual expenses. As of the date of publication, the IRS allows taxpayers to deduct 56 cents for every mile driven for business purposes.
Overlooked Deductions
Business owners tend to overlook a handful of deductions. Taxpayers are allowed a partial tax deduction for products used for both work and personal purposes. If you work from home and buy a new computer or upgrade your computer software or hardware, you can deduct it to the extent you use it for business. For example, if you use it half of the time for work and half for fun, you may deduct 50 percent of the cost. Also, the cost of any classes or courses related to your field of study are deductible as an education expense. Any incidentals you have to pay when traveling for business -- such as lodging, transportation and even purchasing Internet access -- are commonly forgotten but 100 percent deductible.