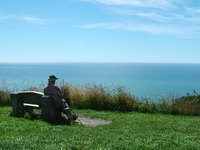 A Roth Individual Retirement Arrangement (IRA) allows after-tax contributions to an account that grows tax-free. Tax-free distributions are made from the plan as well. However, if the owner of a Roth IRA dies before all the money in the account is withdrawn or distributed, the account is transferred to beneficiaries. The beneficiaries must understand the rules for receiving Roth IRA benefits.
Estate Tax
Estate tax is due on the balance of a Roth IRA when the account holder dies. It means that if you inherit a Roth IRA, the balance of the IRA amount is included in the estate tax calculation. However, Roth IRA contributions are after-tax dollars, so the taxable estate amount is reduced by the amount of tax already paid on contributions.
Income Tax
Income tax is not due on an inherited Roth IRA. It is subject to the same income tax rules that applied to the original Roth IRA owner. Additionally, withdrawals from Roth IRAs made by beneficiaries younger than 59 1/2 typically are not subject to the IRS' normal 10 percent penalty. Beneficiaries also can withdraw interest earnings prior to age 59 1/2 without paying income tax on them.
Non-Spouse Beneficiary
If you are not the spouse of the original Roth IRA owner, you must either receive distributions over your entire life or receive the entire account balance within five years after the original owner's death. You cannot contribute any more money into the plan or combine it with another existing Roth IRA plan.
Spousal Beneficiary
If you are the spouse of the deceased Roth IRA owner, you can treat the Roth IRA as your own. That means you can make contributions and withdrawals as though you were the original owner.