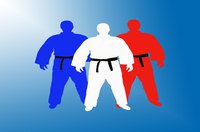 Judo is the martial art of using your opponent's energy against himself. Instead of meeting force with force you defuse the situation or redirect the energy away from yourself. Verbal Judo is based on this idea. It is a technique that is widely taught to police and crisis negotiators. It is a way for keeping tense verbal exchanges from escalating into dangerous situations.
History
Dr. George Thompson ("Doc Rino") has been a policeman and a college professor and holds black belts in both Judo and Tae Kwon Do--as well as a PhD from Princeton. He is interested in tactical communications (defusing verbal conflicts)--especially in a version he pioneered in 1983: Verbal Judo. The word "Judo" means the gentle way or the gentle path. Verbal Judo is a collection of techniques to gently redirect the energy in verbal conflicts and calm down a potentially violent person. Dr. Thompson has taught his techniques to thousands of policemen, casino operatives and hostage negotiators and written dozens of books on the subject.
Principles
The basic principles of verbal judo are not to confront, block or contradict your adversary. You need to listen and go with the direction that the adversary is moving in. If you present yourself as a reasonable person who is listening and trying to find a peaceful solution to the current problem, you are less of a target than someone who presents himself as an uncaring and unreasonable official. Letting an aggressor speak his piece and even helping him play out his rage to its illogical conclusion redirects the energy away from you and hopefully lets the rage exhaust itself. If you refuse to treat the aggressor as an aggressor but instead as a real human being that you share an unfortunate circumstance with, you can help him find a nonviolent way out.
Examples
There are certain key phrases you should avoid saying. For example, anything like "because it's the law" sounds too much like "Because I said so" or other phrases used by parents to confront children. You really don't want the confrontational situation of man against law. It would be better to explain why something is the law. The very fact of reasoning—instead of confronting—redirects the anger along a path that requires more thought, and therefore less rage. Another type of statement to avoid is "be reasonable" as this implies that you are being reasonable and your opponent is not. If you treat a person as reasonable and somewhat equal in stature he will start becoming more reasonable and perhaps even calmer.