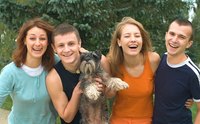 Marketing to young people can be challenging because today's youth are generally well informed and expect substantiated facts. Television is not the only means to convey a message; most adolescents also use other forms of media such as radio stations, cell phones and the Internet, including social networking sites. Marketing messages can be conveyed to youth using various media.
Mobile Marketing
According to Youth Research Partners, today's young people are exploring new avenues for information. Mobile marketing is one of the easiest ways to reach youth today. Through text messaging, people can remain well informed about various brands, products and sales promotions. Personalize text messages to get attention.
Youth Newspapers
To capture the attention of youth, showcase your marketing messages in specific youth magazines and newspapers. Many youth are interested in reading about media, sports and fashion. Print media, though one of the oldest forms of marketing, remains a popular way to reach youth.
Youth Radio Stations
Marketing can be done through various radio stations that are popular with youth. Radio stations reach large audiences that include mostly youth who listen to them while going about their daily routines.
Email Marketing
One simple and economical way of marketing is through email. Online advertising companies sell targeted email lists, so your email messages can target specific recipients. Email marketing allows you to communicate information that is interesting to individuals rather than to general groups.
Outdoor Marketing
Outdoor marketing involves placing outdoor posters and billboards in public areas such as bus stands and airports. Targeting youth-specific areas, such as places outside universities, fast food outlets and shopping malls, can attract the attention of your target audience.
Youth Sports Leagues and Clubs
Sponsor tournaments through youth sports leagues and clubs. Providing gifts or food items is another way to market products to young people.
Flyers
Flyers are relatively inexpensive to produce and distribute. Photocopy professional-looking flyers and distribute them at businesses near campuses and other places young people are likely to be.
Online Marketing
Young people often spend a lot of time on the Internet, browsing for information and using social networking sites. Many universities have websites that provide opportunities for sponsorship. Marketing can be done through these websites or through advertising on social networking sites.