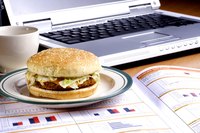 When marketing, fast-food restaurants are not limited to coupons and corporate television ads in a world of social media, trend following and special events. When sales are down, it's not the time to reduce marketing budgets, according to "QSR" magazine, a publication of the "quick-serve" and "fast-casual" industry. Nor should you rely on just one source of marketing, such as coupons, whether you own a franchise or a single, small, fast-food restaurant.
Build Loyalty
Historically, fast-food restaurants have never been big on loyalty programs, according to "QSR." But advanced technology in point-of-service systems at the counter coupled with smartphone applications gives fast-food restaurant owners many options to create simple loyalty programs. With your receipts tied in electronically to your network, you can capture customer preferences and design marketing efforts around the information. Find out with a loyalty tracking system, for example, if customers like to increase the size of their orders or if they prefer smaller portions. Add quick-response, or QR, codes to receipts for customers to scan into their phones to get even more information. Loyalty cards that provide discounts work for retail and can work for you.
Generate a Buzz
Customers remember whether they went to the counter to order a burger from a distracted, disinterested employee or if they were met with a cheerful smile. Word of mouth and a social media presence are marketing strategies that rely on your customers to spread the word about your great food and service. Customers will tell each other when they had a good time at a fast-food restaurant and whether they plan to go back. Energize your team to make every customer feel special so you'll get those referrals. Experiment with sending employees into the mall or to a nearby street corner to wear a sign that draws in customers. Provide space for special occasions, parties and meetings to take place in your eatery. The pictures with your fast food logo emblazoned on T-shirts and balloons that are passed around on social media at such events can be exceptional advertising.
Target Health-conscious Consumers
With advocacy groups continually warning consumers about the health risks of fast food, make your restaurant stand out by touting the nutritional content of your healthiest options. Send out fliers and post ads about the low-fat fries you offer. Tout your salads and fruit bowls and the tasty ways they satisfy hunger. Promote your fat-free, low calorie ice cream desserts and the vegetarian dishes that round out your menu.
Add Upscale Features
Stay ahead of the competition by continually updating your menu with trendy options to attract new customers. Add options such as sourdough bread or artisan creations. Hit the upscale consumers with luxury items such as morel mushrooms and scallions. Create an image that your offerings are inspired by gourmet chefs by adding the words to all your messages, in print, online and through TV and radio spots.