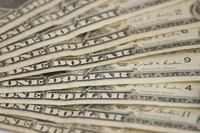 Grants for small business owners and entrepreneurs are different than start-up loans in that they are often awarded to new ventures without the need for repayment. Government and state agencies, as well as private organizations and nonprofit foundations, are the primary sources of grant money for entrepreneurs and business owners.
Federal Research Grants for Small Businesses
The federal government offers some small grants for entrepreneurs who are developing or expanding upon a small business venture. The government awards a percentage of its Research and Development funds to those small business owners through its Small Business Innovation Research and Small Business Technology Transfer programs. Entrepreneurs and small business owners who are undertaking research that might benefit a particular government agency are eligible for the grants. Government agencies that participate include the U.S. Department of Agriculture (USDA), the U.S. Department of Defense, the U.S. Department of Education, the U.S. Department of Transportation and the Environmental Protection Agency (EPA), among others.
U.S. Department of Health and Human Services 200 Independence Avenue, S.W. HHH Building Washington, DC 20201 800-518-4726 grants.gov
The Burton D. Morgan Foundation Entrepreneurship Grants
The Burton D. Morgan Foundation is a private organization that awards grant money to nonprofit organizations that assist entrepreneurs. Grants are available for youth, collegiate and adult entrepreneurs who seek to launch new ventures while at the same time building a foundation of sustainability. The adult entrepreneurship grants are awarded to support organizations that assist individuals who are contributing to growth in the areas of networking, continuing education, information, risk management, business planning and more. The primary recipients of the grants reside in the northeast region of Ohio.
The Burton D. Morgan Foundation Entrepreneurship Grants 22 Aurora Street Hudson, OH 44236 330-655-1660 bdmorganfdn.org
New Media Women Entrepreneurs Grants
The McCormick Foundation New Media Women Entrepreneurs is a project of the Institute for Interactive Journalism that aims to provide women in media with the means to get new and creative ideas off the ground. Each year, the foundation awards four grants to female-led projects that strive to change the face of journalism, be it through new websites, media services or other entrepreneurial ideas. The grant is awarded in the amount of $12,000 annually.
McCormick Foundation New Media Women Entrepreneurs 3201 New Mexico Avenue NW, Suite 330 Washington, DC 20116 202-885-8100 newmediawomen.org