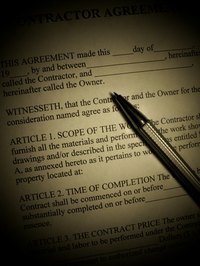 Hard money loans are short term loans backed by collateral. Hard money loans can be used to buy real estate with the real estate as collateral. This is in contrast to soft money loans where the promissory note is given in exchange for money to buy the property, but the lender does not have the house as collateral. Hard money loans include construction loans with the house as collateral, home equity lines of credit that require a second mortgage, and reverse mortgages with a lien placed against the home. Hard money lending laws allow these lenders to require higher points or down payments than other lenders.
Interest Rates and Fees
Hard money loans can charge higher interest rates than consumer loans because they are not classified as consumer loans. A hard money lender can charge 20% or higher interest rates because the usury laws do not apply to this type of loan. Some states, including California, put limits on the commission and fees that can be charged on hard money loans. Balloon payments are allowed in hard money loans, though state laws may limit the size of the balloon payment.
Hard Money Equity Loans
When a home owner takes cash out of an owned property in an equity loan, they have entered a hard money loan. Home equity loans can be used with debt consolidation, changing an unsecured consumer loan into a hard money loan with the house as the collateral. Many states do not allow home equity loans to exceed 80% of the house's market value.
Second Mortgages
Hard money lenders can offer mortgages on properties that do not meet Federal Housing Authority standards, such as vacation properties in public parks. Hard money lenders can refuse to consider borrowers with loan-to-value ratios below 30%. Hard money laws allow for houses to be foreclosed upon if the borrower is late paying the second mortgage. However, the first mortgage holder is paid before the second mortgage holder and construction lien. If the home sells for less than the combined debt against the property, the hard money lender can sue the home owner for the difference.
Reverse Mortgages
Hard money lending laws allow the lender to attach a lien to the property in return for the money. The loan does not have to be repaid unless the house is sold, the homeowner dies, or the homeowner no longer lives in the property. In the United States, the law requires that a home owner be at least 62 years old to take out a reverse mortgage. In some states, the reverse mortgage can be the only loan against the home. In other states, a reverse mortgage is allowed if both the primary mortgage and the reverse mortgage can be paid off by the sale of the home.