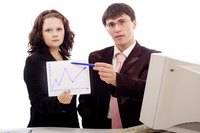 Corporate trainers are responsible for the education and skill advancement of employees. Successful corporate trainers understand the goals of the organization and the skill level and educational needs of employees. Effective trainers are skilled communicators and have an understanding of instructional design principles and practices. While many corporate trainer positions do not require specialized education, there are courses available that provide instruction about the fundamentals of training.
Assessment
Corporate trainers are often responsible for assessing the knowledge and skill level of employees, through interview, survey or observation. Assessments are then used to plan and design appropriate training sessions and materials. Assessments can serve as benchmarks and performance indicators, providing evidence of training effectiveness and organizational change.
Curriculum Design
One of the primary responsibilities of corporate trainers is training curriculum design. A thorough needs analysis, targeting the learning needs of the organization, as well as company goals and employee assessments should be taken into consideration when determining topic, content and method of training. A training plan detailing training strategy, goals and time line should be developed and guide curriculum design.
Training Delivery
Trainers may be responsible for delivering training, including new hire training and professional development sessions. Successful trainers communicate the topic effectively by understanding the audience and targeting the session to their skill and education level. Corporate trainers may benefit from training in public speaking and instructional delivery.
Managing the Training Department
Corporate trainers in large organizations may be responsible for managing the training department, including financial and human resources. Training managers often develop budgets, evaluate return on investment, hire staff and mentor junior-level trainers. Marketing the benefits of training and the services of the training department may also be a function of the training manager.