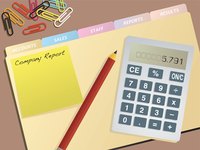 Debt is one form of capital a company can use. The other form of capital is equity. Companies can take on debt to meet obligations, such as paying for inventory or paying wages. A company can have two forms of debt, either long-term or short-term. Long-term debt is any debt due in more than a year. Short-term debt is any debt due in the next year.
Accounts Receivable Financing
When a company uses accounts receivable financing, it will use the money people or other businesses owe the company as collateral on a loan from a lender. The company can then pay back the loan as it collects on its accounts receivable. If, for example, a company has $20,000 of sales that the company has not yet collected, this amount is known as an account receivable. If the company needs the money quickly, they can go to a borrower and ask for money, promising the collection of the account receivable to pay back the loan.
Credit Cards
A company can obtain credit through credit cards. A credit card extends the company a line of credit that the company can use and then needs to repay over time. For example, a company uses a credit card to purchase office supplies for $200. This $200 would then become short-term debt for the company.
Lines of Credit
Companies with good credit can often obtain a line of credit from the bank. The bank will allow the company to borrow up to a set amount. The company can borrow the money and then pay the money back. The lender will normally keep the line of credit open each month after the company pays back what it borrows. A line of credit then a mixture of a credit card and a short-term loan.
Factoring Accounts Receivable
A company can factor its accounts receivable, which means selling its accounts receivable to another company. The amount the company receives will be less than the total amount of accounts receivable, and the company is still responsible for collecting the accounts receivable. For example, a company has $20,000 in accounts receivable that it factors to the bank. The company receives $15,000 for the $20,000 in accounts receivable. The company must continue to collect the receivables for the bank and then pay the bank the $20,000.