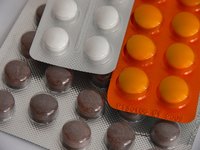 The pharmaceutical industry is a highly regulated business with many rules dictated by the government to protect the public. The Food and Drug Administration is the organization responsible for dictating regulatory policies in the United States. There are many different actions the FDA takes to ensure pharmaceutical companies meet regulatory requirements.
Laws
Regulations in the pharmaceutical industry began in the early 1900s. The Food and Drugs Act, enacted in 1906, was the first of more than than 200 laws and acts that aimed to protect consumers from drug companies. The Federal Food, Drug and Cosmetic Act, passed in 1934, gave the FDA the right to oversee the safety of food, drugs, and cosmetics. The Food and Drug Administration Amendments Act of 2007 ensured FDA staff would have the resources needed to conduct further regulatory reviews when necessary for new drugs and devices.
Regulatory Guidance Drug Registration and Listing
The FDA also helps regulate the pharmaceutical industry by making drug companies register all of their products and manufacturing locations. The Federal Food, Drug, and Cosmetic Act states that pharmaceutical drug manufacturers must register their establishment(s), as well as submit a listing with the FDA for every product they plan to distribute commercially. This regulatory system helps the FDA keep track of human and veterinary drugs.
Division of Drug Marketing, Advertising, and Communications (DDMAC)
The FDA's Division of Drug Marketing, Advertising, and Communications (DDMAC) reviews prescription drug advertising and promotional information to make sure all promotional materials are truthful, balanced and not misleading. Pharmaceutical companies must submit all promotional marketing materials to DDMAC, and DDMAC in turn provides feedback on copy and graphics that can't be used. DDMAC is also responsible for reviewing complaints about possible promotional violations, and taking action against companies who don't comply with FDA regulations. Lastly, DDMAC compares the product labeling and promotional materials of similar pharmaceutical products to compare them and ensure that regulatory restrictions are met.
Warning Letters
Occasionally, the FDA will come across a misleading claim about a pharmaceutical product, and it will submit a warning letter to the company who made the claim. The CDER Freedom of Information Office (FOI) controls the warning letter process. Once a warning letter has been submitted to a pharmaceutical company, the company must address the issue, or it will face serious fines and other repercussions.