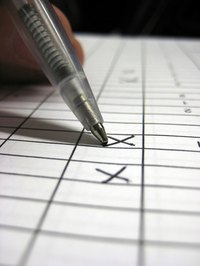 Effective communication in business is vital for customer relations, employee satisfaction and the company's public image. A communication audit is an observance and assessment of how well an organization communicates. Auditors use a six-step checklist to observe, identify areas of strength and weakness and provide steps to effectively implement change, according to communicationideas.com.
Planning
This part of the audit is intended to identify the needs and objectives of the organization and the audit itself. The planning stage requires leadership to prepare documents, create surveys and announce to the organization the time and date the audit will take place.
Observing
After the audit has been announced to the company, the audit is launched with observation and evaluation. This portion of the audit takes note of the working environment, organizational communication methods, the organizational structure and any barriers at work preventing effective communication.
Interviewing
The interview process is conducted across three levels in the organization. A selection of employees is interviewed one-on-one with specific questions about the company's ability to communicate. Middle management and the executive team are also interviewed using similar questions.
Focus Groups and Feedback
Focus groups are teams of people from different departments and areas of the organization that are formed to provide more accurate feedback on the organization's effectiveness in communicating. The focus groups are lead by a facilitator who asks questions to provoke a reply from the participants. Focus groups are able to reveal the emotions and opinions behind the feedback and can dig deeper into specific issues.
Feedback is also gathered from external audiences and stakeholders, such as vendors, customers and other businesses the company works with. This feedback may be gathered via surveys, group discussions or interviews.
Survey
A survey is developed and completed by everyone in the company. The survey consists of statements that assess the organization's communication strategy and effectiveness. Each statement is rated from one to 10, one being "strongly disagree" and 10 being "strongly agree." After the survey is complete, each statement's rating is tallied and recorded. The survey is an effective way to identify strong and weak areas of communication.
Reporting and Implementing Change
All the data from the various forms of gathering information and feedback are analyzed and placed in a printed report with the findings. Suggestions on which areas of communication need improvement and a plan of action detailing the steps of how to accomplish those improvements are included in the report.