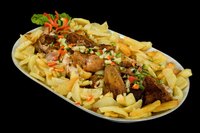 The restaurant you open will be an expression of your personal sense of hospitality, service, attractive ambience and good food. If your restaurant is to survive in a challenging economic climate, it must respond equally to your customers' idea of a quality, good value experience. Too often restaurant business plans focus on the owner's concept and the balance sheet. Plans should also incorporate ideas about the restaurant's target audience and how to successfully connect with it.
The Balance Sheet
Of course the numbers matter. After the cost of fitting out the restaurant--which can be substantial--calculate the weekly expenses, including repayment of debt, rent, wages, utility bills and the cost of food and drink and items easily overlooked, such as laundry. If your budget is tight, you may decide not to have fresh linen at the tables, and to replace pricey fresh flowers with tasteful but permanent table decorations.

Covers
When you know what your weekly or monthly expenses will be, you will know the income required to make the restaurant viable or profitable. In a restaurant business plan, this can be expressed in terms of covers. A cover is what one diner spends at a typical meal. In a moderately expensive restaurant, a meal with a drink or two might result in a cover of $50, before tax (if applicable) and tip. If it costs $20,000 per week to run the restaurant, there will be profit only after 400 covers are served. This is just an example.

The Menu
Whatever the style of cuisine, the menu must be priced to represent a reasonable value to customers and to give you a chance of meeting your bills. This will influence decisions about what you serve. For example, you may offer the best grilled cheese sandwich in the county, but if it needs to be priced at $29.99 in order to pay the rent, it will go unsold. Setting menu prices is a fine balancing act between making enough money and deterring customers. Again, the key is not the price of individual dishes, but the overall cost of a typical meal. For this reason, a menu might offer "loss leaders"-special dishes like lobster or steak priced at a loss in order to entice customers to eat a full dinner.

Wine and Liquor
Setting prices for the wine list and bar drinks is comparatively easy. Survey the competition and be sure your prices are in the same range. If standard practice is to double the retail cost of a bottle of wine, follow that practice. Assuming you have obtained the appropriate license, wine, beer and liquor sales will be a major source of profit.

Your Market
An easy mistake is to adopt a concept for your restaurant without assessing local demand. Just because you grew up with Italian red sauce dishes, or because you can hire a great Thai chef, does not mean a market exists. Perhaps there are already five Italian trattorias in the neighborhood. Perhaps nobody in the area has any experience of Thai food. You should avoid duplicating what is already available, unless demand is insatiable (if the only barbecue restaurant in miles has lines outside every day, there may be room for one more). It should, on the other hand, avoid offering unfamiliar cuisine for which there is no demand.