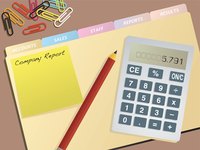 Companies purchase debt or equity securities as investments, which provide additional revenue. There are three types of classifications for debt or equity securities: trading, held to maturity and available for sale. Accountants must properly classify the security because each type involves different accounting procedures.
Trading
A trading security can be either a debt or an equity security. Classify a security as a trading security if it was bought for the sole purpose of being sold in the near future. Since most trading securities are sold in the near future, most trading securities are short-term assets.
Held to Maturity
A held-to-maturity security can only be a debt security because equity does not mature. For example, a company buys a bond that matures in five years. If the company plans to hold the bond for all five years, then it is a held-to-maturity security.
Available for Sale
Available-for-sale securities are either debt or equity. Available for sale is a catchall for securities. If a security does not meet the definition of a trading security or a held-to-maturity security, then the company will classify the security as available for sale.