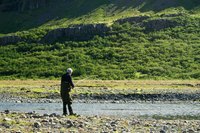 Located in the Mid-Atlantic region of the United States, West Virginia provides fishermen with opportunities for catching trout in the state's water bodies, which include the Elk River, Stamping Creek, Glady Fork River and Potomac River. Log cabin accommodations can be found by these rivers that provide lodging for sportsmen who are seeking a weekend-long fishing trip. Most of these resorts are in Monongahela National Forest, a recreational area that features campsite and hiking trails.
Barnett Cabin Rentals
The Barnett Cabin resort in Hillsboro is in the southeastern region of West Virginia and offers trout fishing in the Greenbriar and Stamping Creek rivers. The cabins at the resort are secluded from one another and each are within walking distance to the rivers. The resort provides a laundromat for all guests to use, as well as a shuttle service from the cabins to the rivers, if requested.
Each of the four cabins are furnished with antique furniture and include fully furnished kitchens, living rooms with gas fireplaces, picnic areas with barbecue grills and queen-sized beds. One of the cabins, Brook Side, has two bedrooms.
Barnett Cabin Rentals HC 64 Box 430 Hillsboro, WV 24946 304-653-4590 barnettcabins.com
Elk Springs Resort
Elk Springs Resort is located in eastern West Virginia's Monongahela National Forest and an approximate 25-minute drive from Snowshoe Mountain, which offers skiing activities in the winter. The Elk River passes through this resort and offers opportunities for canoeing and trout fishing.
The resort also provides the Fly Shop, which sells fishing bait and accessories, as well as tour guides to take you to fishing spots on the river.
Three cabins are available to rent and include a kitchen areas, living rooms with fireplaces, bathrooms and outdoor decks.
Elk Springs Resort 14A Dry Branch Road Monterville, WV 26282 304-339-2359 sites.google.com/site/elkspringsresortwv
Glady Fork Cabins
The Glady Fork Cabins rest on the Glady Fork River in northern West Virginia, within 10 minutes of walking and cycling trails in Monongahela National Forest. All of the cabins on the resort are secluded from each other and are within walking distance from trout fishing opportunities on the river.
The resort also has an equestrian center and trails for horseback riding throughout the property.
All seven of Glady Fork cabins include a living room, kitchen area and outdoor deck. Some of the cabins have whirlpool tubs and satellite television. Pets are allowed to stay in designated cabins.
Glady Fork Cabins HC 68 Box 136B Glady, WV 26254 304-636-6574 gladyforkcabins.com
Harman's North Fork Cottages
Harman's has been open since 1939 and provides trout fishing on the North Fork of the Potomac River's South Branch. The cabins at this resort are secluded from one another and within walking distance of the river.
The resort also provides a gift shop, horseback riding trails and boating facilities. It is also within 20 minutes of Seneca Caverns, which offers mountain climbing.
Harman's has 20 cabins available to rent that include living rooms with fireplaces, fully furnished kitchens, outdoor decks with whirlpool tubs and access to wireless Internet.
Harman's North Fork Cottages HC 59 Box 1412 Cabins, WV 26855 304-257-2220 wvlogcabins.com