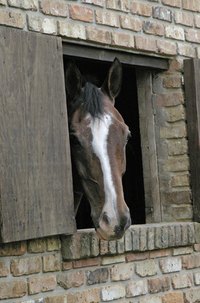 Ulcers are a fact of life for most show or performance horses and, unfortunately, for most stalled horses as well. Changing the natural way the horse has always lived, by penning it into a confined area and allowing the horse to eat only at certain times, often results in the horse developing stomach and intestinal ulcers. Knowing how to treat them is important for any horse owner.
Aloe Vera Juice
Aloe vera juice is a natural choice for soothing and healing ulcers. Aloe vera juice contains a mixture of complex sugars that nourish cells and support their reproduction, which speeds the healing time of pre-existing ulcers. It is naturally high in fiber and helps keep the digestive tract moving.
Papaya
Papaya is a fruit native to central America and Mexico. The natural active ingredient in this fruit is papain, which is similar to the digestive enzyme pepsin. Papain helps to stimulate appetite while soothing the throat tissues and providing relief to the stomach and bowels by coating existing ulcers. It also helps prevent the formation of new ulcers.
Slippery Elm
Slippery elm bark is another choice for treating ulcers in the equine digestive tract. The powder is mixed with water or chamomile tea, then given orally. The effect is to help line the damaged gut with a mucilaginous lining that will allow the gut to heal. It is usually given once a day as a standard treatment.