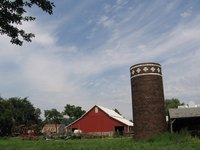 In order to keep their business running during a difficult economic climate, many farmers seek the financial assistance provided by the United States Department of Agriculture (USDA) in the form of grant programs. A number of opportunities are available, including grants for research, local market participation and specific farm types. USDA grant programs are awarded annually to approved applicants and do not have to be repaid.
Farmers Market Promotion Program
The Farmers Market Promotion Program was established in 1976 with the goal of expanding upon and improving local farmers' markets, community-supported agriculture programs, roadside stands and additional direct producer-to-consumer market opportunities. The program has approximately $5 million in funding available for the 2010 fiscal year, with $10 million allocated for both 2011 and 2012. Applicants must present a proposal to the USDA detailing how they will use their grant funds to accomplish the goals set with the program's creation. The maximum award amount per application is $100,000 as of 2010. The USDA considers producer networks, producer associations, agricultural cooperatives, non-profit organizations, public benefit organizations, Tribal governments, local governments and regional farmers' market authorities are also eligible to apply for the program.
Beginning Farmers and Rancher Development
In 2009, the Department of Agriculture established the Beginning Farmers and Ranchers Development grant program, designed to aid new farmers with the knowledge and assistance required to operate a farm. The fiscal year 2009 offered $18 million in funding, with similar funds available in 2010. Grants are provided to approved applications in the fields of education, outreach, training and technical assistance. Project periods are limited to three years and budget requests must not exceed $250,000 annually per proposal. Applications are accepted in a wide variety of areas, including mentoring, apprenticeships, internships, resources and referrals, whole farm planning, financial management training, risk management, livestock and crop farming practices and information processing. Related subject areas are examined on a case-by-case basis.
Agriculture and Food Research Initiative
In order to promote the research and education necessary to address problems in sustaining components of agriculture, the USDA created the Agriculture and Food Research Initiative. Recipients of the grant are required to advance the fundamental sciences in support of agriculture and coordinate the opportunities to build on the discoveries. The results will be delivered to the public in order to allow individuals to make the most informed decisions regarding food and nutrition. Grants are awarded in six areas, including plant health and production; animal health and production; food safety, nutrition and health, renewable energy, natural resources and environment; agriculture systems and technology; and agriculture economies and rural communities. Funds are determined by application volume and program needs.