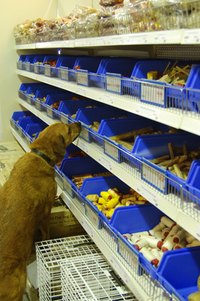 In the crowded marketplace, it's a challenge to make your product stand out. It's important to have a marketing strategy for a food product to ensure that you build and maintain sales throughout its life cycle. Whether you're selling a food item that's new to the market or you're marketing an established brand, creative merchandising ideas can help build awareness among consumers.
Labeling
According to the Penn State Department of Food Science, the label on your food package is one of the most important marketing tools. It's important to have a high-quality, attractive label that invites trial. A label is generally the first impression your customer will get, so make it count. Depending on where your product is sold, an elaborate, colorful label may be appropriate. It can also help communicate your marketing message or company history.
Sampling
To get consumers to buy your product, let them try it first. People are less likely to buy something if they're not sure they'll like it, particularly if the product has a high price. Setting up sampling stations can encourage trial and drive sales. Providing product information and special offers at the point of trial can also help increase sales.
Recipes
Develop recipes in which your food product can be featured. You can distribute these recipes on your website, by mail or in grocery stores. If you develop seasonal recipes, you'll create demand for the product throughout the year. By creating multiple uses for the product, you'll increase sales.
Cross-Promotion
Partnering with a popular product or brand can help build awareness of your product. Not only can you create demand in your product's category, but you may be able to cross-promote the product and create demand for it in another category. Develop ways your product can be used with other foods or products. For example, a salad dressing may cross over into the produce category if promoted with salad greens. Ice cream can be marketed with fruit sauces or toppings.
Couponing
Offer customers a great deal on the product. Offering a discounted price on an item or even an opportunity to get one free with purchase is a good purchase incentive. Coupons can be distributed in stores or as part of a loyalty program. Loyalty programs offer incentives to consumers for specific repeated behavior, usually repeat buys. This is also a good way to track the success of the promotion, because you can count the number of coupons redeemed.
Social Media
Using social media is one of the fastest and most inexpensive ways to promote a product to an audience of millions. Customers are more likely to try a food if they've heard of it. They're also more likely to purchase something their friends have tried. Using social networking sites can help introduce a product to specific demographic groups and help create demand for it.