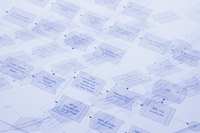 Bnet.com defines organizational change as, "the coordination of a structured period of transition from situation A to situation B in order to achieve lasting change within an organization." Organizational change is intended to improve a company's corporate culture, public image and create systems that are more productive and efficient than the ones currently used. In order for organizational change to be effective and long-lasting, certain success factors are critical.
Visible Leadership Support
Organizational change is dependent on leadership's support verbally and in action. Change will not effectively transpire if leadership simply talks about ways to change things. When change is implemented, leadership needs to be the first ones to demonstrate though behavior that they support the change. For example, if leadership states that customer service is going to be the first priority, they need to demonstrate that in front of the members of the organization.
Preparation
Change occurs because it is intentional. Preparing for the change includes having systems and procedures in place to guide the change, anticipated difficulties and tough questions that will need to be answered. Part of the preparation process is also training and developing the organizational members to implement the change effectively.
Reward System
People are motivated to change when there is a reward inspiring them. If a part of the organizational change requires team members to sacrifice something, rewarding them will cause them to accept the change. Rewards may be a cash bonus, a party or paid time off.
Organizational Communication
Organizational and interpersonal communication is crucial for organizational change to be effective. Organizational communication is the sending of messages from the leadership to the entire organization. This can be in the form of an email, meeting or voicemail. Organizational communication will prepare and inform all the members at the same time with general information about the change. Organizational communication is intended to provide a platform for management to build on in interpersonal communication.
Interpersonal Communication
Interpersonal communication is the exchange of messages between two people through words, symbols or actions. In order to effectively implement organizational change, management will need to effectively communicate with its team members to provide direction, cast vision and provide the steps needed to accomplish the change. Interpersonal communication can be used to interview, instruct or train team members. It is also used to answer questions for clarity.