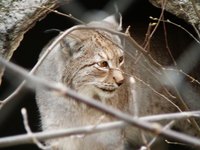 Big South Fork National River and Recreation Area, the Appalachian National Scenic Trail and the Cherokee National Forest are national parks and forests in Tennessee. Tennessee has 80 natural areas and 53 state parks and the Appalachian Mountains full of native plants and animals. The Tennessee Valley Authority also lists all the plants native to Tennessee. The National Biological Information Infrastructure lists all native animals.
Oak Trees
Oak trees can be found all over Tennessee, from the swamps to the peaks of the mountains. Landowners, homeowners, and forestry services value the oak tree, as it is used in building lumber, and the acorns are an important food for wildlife. The economic value of the oak tree is unparalleled. Twenty species of oak trees are native to Tennessee, including red oaks, white oaks, black oaks, shingle oaks and chestnut oaks. To identify Tennessee's native oaks, read through Identifying Oak Trees Native to Tennessee from the University of Tennessee Extension.
Bobcat
The bobcat (Lynx rufus) is similar to the lynx but is yellowish-brown and grey in the winter. The bobcat has a short tail and ears that are somewhat tufted. Bobcats mate in February and March and have one to seven kittens born in April or May. Bobcats can be found throughout the United States, and are scarce in the Midwest, but are located in Tennessee in the Appalachian Mountains. Able to fast for some time when food is unavailable, the bobcat eats raccoons, domestic cats, skunks, reptiles and foxes. Bobcats will revisit any large kills, however they rarely kill large prey.
Masked Shrew
The masked shrew (Sorex cinereus) lives in marshy areas such as bogs and moist woods. Masked shrews are located throughout the Appalachian Mountains and they are one of the most extensively dispersed North American mammal. Masked shrews eat their own weight or more in insects, slugs and spiders each day. This small, brownish animal has a silver belly and long tail. It mates in the spring through fall and, after an 18-day gestation period, has two to 10 babies that wean within 19 days of birth.