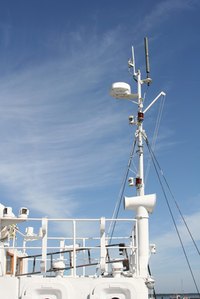 A fixed asset or long-term asset is an economic resource that a company can use for more than a year. In contrast, a firm converts into cash (sells) a current asset within 12 months. Examples of fixed assets include land, equipment, office buildings, machines and plants. Current assets may be cash, accounts receivable or inventories.
Asset Purchase
U.S. generally accepted accounting principles, or GAAP, and international financial reporting standards, or IFRS, require a company to record asset purchases at fair market values. These principles adhere to asset recording rules that the Securities and Exchange Commission (SEC) and the Public Company Accounting Oversight Board (PCAOB) generally promulgate. To illustrate, a large oil and gas company purchases a drilling machine currently valued at $1.5 million, and the company's treasurer signs a loan agreement with a bank to finance the equipment. To record the asset purchase, a corporate accounting manager debits the property, plant and equipment account for $1.5 million and credits the long-term loan payable account for the same amount. In accounting parlance, debiting an asset account means increasing its amount; crediting it means reducing the account balance.
Depreciation
Depreciation is a business method that allows a firm to spread the cost of a fixed asset over several years. Accountants use the term "useful life" to indicate the number of years a company can use a long-term asset in operating activities. Senior corporate leaders usually establish adequate and functional internal controls in fixed asset recording systems to ensure that financial accounting and depreciation amounts are accurate, complete and conform to U.S. GAAP and IFRS. Correct depreciation amounts are important because fixed assets generally represent a substantial portion of a company's total assets and balance sheet. A fixed asset manager at the oil and gas company advises the accounting manager to depreciate the new drilling machine equally over five years. The accounting manager debits the depreciation expense account for $300,000 ($1.5 million divided by five) and credits the accumulated depreciation account for the same amount.
Asset Sale
A company records asset sales similar to asset purchases, with the exception that it records assets at net value or purchase value minus the accumulated depreciation amount. For example, the oil and gas company's senior controller wants to dispose of (sell) the drilling machine after four years. The accumulated depreciation amount at the end of the fourth year is $1.2 million ($300,000 annual depreciation times four), and the machine's book value is $300,000 ($1.5 million purchase price minus $1.2 million accumulated depreciation). The senior controller sells the machine for $400,000 to a local manufacturer. The accounting manager credits the property, plant and equipment account for $300,000 and the gain on the asset sale account for $100,000 ($400,000 sale price minus $300,000 book value). He debits the cash account for $400,000.