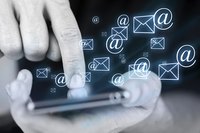 E-mail marketing enables organizations to communicate directly with large numbers of customers and prospects at minimal cost. An e-mail communication can take the form of a simple text message or incorporate graphics and links to online content. While it offers marketers important advantages, such as speed, cost and reach, e-mail marketing also can prove intrusive to customers.
Benefits of Direct Personalized Communication
E-mail marketing can be a precise form of communication, giving it a clear advantage over broadcast media such as advertising. Organizations can send targeted messages to individual customers and prospects or groups with similar product preferences. They can personalize e-mails with individual offers based on each customer's purchase history or response to previous marketing campaigns. Marketers can change messages for each target group at relatively low cost, compared with media such as traditional advertising.
Barriers of Permission-Based Marketing
While marketers can use e-mail as a precise tool, they cannot do this without obtaining permission from potential recipients. This is known as permission-based marketing and can limit the use of e-mail. Customers or prospects who visit a website, for example, must tick or untick a box giving organizations permission to send marketing communications. Sending unsolicited e-mails, or spam, can create a negative perception of an organization.
Advantages of Measurable Campaigns
Organizations can use software programs to measure the effectiveness of e-mail campaigns. These programs measure factors such as the number of recipients who open the e-mail, and the number who take further action, such as clicking on a link to a website. By monitoring response, marketers can assess the response to different marketing messages or promotional offers and adjust e-mail content for future campaigns.
Problems of Variable Response Levels
Measurement tools may also highlight a disadvantage of e-mail marketing – low opening levels. In business-to-business markets, for example, recipients may receive large volumes of e-mail every day. On a busy day, recipients may ignore e-mails that appear to be marketing messages. E-mail filtering systems also may trigger spam alerts, meaning messages will not reach recipients.
Ability to Deploy Campaigns Quickly
E-mail is a fast medium. To take advantage of business opportunities, marketers can quickly deploy short-term campaigns with brief messages such as "special offer for one day only" or "new, updated version now available." An e-mail sent immediately after a customer buys also can generate additional revenue opportunities. A simple text e-mail offering customers relevant products or services that may be of interest can trigger an impulse purchase.
Opportunity to Build Relationships
The low cost of simple e-mails enables marketers to communicate frequently with prospects and customers, build relationships and move recipients towards a purchase. E-mail campaigns can move prospects through stages from awareness to interest and readiness to buy. At each stage, marketers send different communications depending on recipients' responses. A prospect who requests further information in response to an initial e-mail shows awareness and interest. Marketers e-mail information and encourage recipients to request a sales call. Prospects who make an appointment demonstrate readiness to buy.