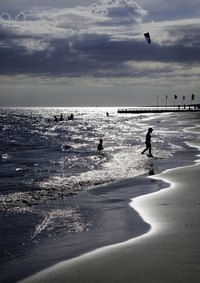 Summer evokes images of kids at play, beach-combing, luaus, and relaxing in lakeside villas. Pair those themes with your window displays this summer to create eye-catching scenes that invite consumers and passers-by to stop and take a look. Window displays encourage people to browse. Keeping your windows dressed in interesting themes helps turn browsers into buyers.
School's Out
Create an eye-catching display celebrating summer vacation for school kids. Create a cardboard representation of a half or quarter of a school bus with drawings of happy children in the bus windows. Make a giant poster sign to look like a yellow notepad with brown lines and "School's Out!" written diagonally across the middle of the note paper. Dangle rulers, pencils, paper clip chains along the top of the notepad. Dress the mannequins in short sets or play clothes, and arrange your goods around the display.

Beach
Drape a fish net on a platform in your window. Add some surfboards and cardboard waves to the mix. Bring the waves to life with blue sand (use blue food color to dye the sand) mixed with blue glitter. Glue the mixture onto the shape of the waves. Include some large starfish, buckets of sand and an array of sea-shells. Dress your mannequins in bathing suits and swimming shorts, interweaving your goods throughout the beach scene.

Lakeside Villa
Recycle the same waves you used in your beach theme for the lakeside villa theme. Sit your mannequins at a cozy patio table for two. Decorate the table with dinnerware and colored cloth napkins. Add a tempting bowl of life-like fruit. Incorporate your product throughout. Add luggage to the scene, and dress your mannequins in sunglasses and big hats. You can also position tanning oil, lotion, shaving creme or other toiletries next to the luggage to represent items to take along on a vacation.

Independence Day
Celebrate Independence Day with a red, white and blue tribute to the troops. Display a large flag in the background. Dress mannequins in military-like garb such as camouflage tees and khaki or green pants. Create a large poster that reads "Support Our Troops." Put your products around the window display. Add a bucket of small flags your staff can hand out to customers.

Luau
Design your window around a Hawaiian luau. Position a large palm tree in the center of your display. Hang several layers of leis from the tree palms. Dress your mannequins in bathing suits, leis and grass skirts and position their arms and hips to simulate the hula. Weave your product through the scene. You can even have one of the models holding one of your featured products in an outstretched hand.