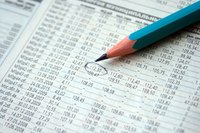 Ensure you qualify to file your taxes under the status of a trader. According to the Internal Revenue Service (IRS), to qualify you must trade stocks regularly and attempt to profit from the market's daily price movements, and your trading activity must be substantial. Under the trader status, you are able to write off any expenses and offset all your losses to your income if you choose the mark-to-market accounting option.
Marriage
Traders who are married are able to double their standard deduction under the Families Tax Relief Act.
IRA, 401k and Managed Accounts
Trades under an IRA, 401k, or a managed account do not count toward your trader tax status.
Wash Sale Rule
Day traders that do not elect mark-to-market account option or any securities that a trader does not claim under mark-to-market are subject to the wash sale rule.
The rule states that, if an investor trades the same security within a 61-day period (30 days before and 30 days after), the loss cannot be deducted.