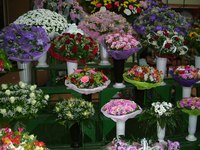 Flower shops provide people with the opportunity to adorn their homes, workplaces, places of worship and public spaces with beautiful blooms. An important function of a flower shop is showing customers the myriad possibilities for displaying flowers. After you've been creating displays for a flower shop for a while, though, your well of ideas can run dry. Get renewed inspiration from the functions for which people often buy flowers.
One Flower Five Ways
Create a display showing five different ways to display a single kind of flower--preferably one you have in abundance. For example, taking inspiration from an article on the Apartment Therapy Web site about displaying cut flowers, "cut a single bloom very short on its stem and place it in a small vase" or place single stems in funky antique-looking bottles arranged on a tray. Show a single stem in a tall, thin glass vase. Bundle a dozen flowers in a mason jar with twine wrapped around it. Place a sign above or in the display reading, "One Flower Five Ways."

Flower Meanings
Arrange a spread of different flowers traditionally used in weddings. In front of each vase, place a shabby-chic style wooden plaque giving the common and scientific name of the flower and a few words about the symbolic meaning usually associated with that flower. For example, as described in an article on symbolic flower meanings on The Knot Web site, gardenias symbolize purity and joy, while sweet peas indicate pleasure.

Bride Photo with Live Bouquet
Obtain a closeup photo of a bouquet in the hands of a bride. Convert the photo to black and white and have it blown up to life size, meaning that the bouquet in the photo should be roughly the size it was in real life. Mount the photo on a "frame" of foam core, with a rectangular space in the middle left without backing. Cut along the top of the bride's hands in the photo and bend the cut section inward. Position the cut section along the lip of a vase in a vase stand so that you can slip a bouquet "into" the photo. Coat the photo with several layers of artist-quality waterproofing sealant. Change the bride's live bouquet regularly.