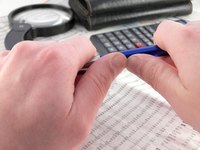 While there are more grants available for non-profit organizations than for-profit organizations, many small businesses can apply for government and private grants for specific projects. According to Business.gov, the federal government provides grants for economic development, but it does not offer grants directly to for-profit businesses. Instead, businesses must look to states and nonprofit organizations' programs.
Small Business Administration
For-profit organizations can apply for up to $100,000 from the Small Business Innovation Research and Small Business Technology Transfer programs. The Small Business Administration manages the grants through the Office of Technology. Recipient projects focus on research and development for issues involving the environment, food and nutrition, agricultural development, aquaculture and green energy.Eleven federal agencies administer SBIR grants and five administer STTR grants. (See References)
U.S. Small Business Administration 801 Tom Martin Drive Birmingham, AL 35211 205-290-7101 sba.gov
National Science Foundation
For-profit businesses can receive up to $150,000 from the National Science Foundation's Small Business Technology Transfer program. The program awards money to businesses that are working on research and development projects that would benefit the government. The foundation prefers to give grants to businesses owners who are women are come from an economically disadvantaged background.
Competitive Programs NIFA, USDA 1400 Independence Avenue, SW., Stop 2240 Washington, DC 20250 202-401-1761 nifa.usda.gov
USDA
Emerging businesses in rural areas can access money distributed from the U.S. Department of Agriculture. The department funnels money to government offices, nonprofit organizations and Native American tribes to create grants for rural businesses. The USDA allows for grants to be between $10,000 and $500,000. Recipient businesses must be in towns with 50,000 people or fewer.
USDA Rural Development, Room 205-W Mail Stop 0107 1400 Independence Avenue, SW Washington, DC 20250 202-720-4581 rurdev.usda.gov
Idea Cafe
Business Owners' Idea Café, a website dedicated to helping budding entrepreneurs begin businesses, has given out $1,000 grants annually since it began doing so in 2001. The website opens the grant to any business owners, and the award will go to "only the most deserving small business owner, who is willing to take their business to the next level," the website says.
Business Owners' Idea Café businessownersideacafe.com