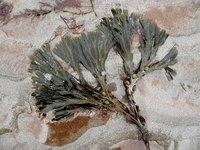 The benthic zone is the area near to the bottom of river, lake or sea. Most of the plants found there are algae and seagrasses, which are also called phytobenthos. Phytobenthos will occur more often in the superior levels of the benthic zone, since they depend on the sun for photosynthesis.
Microphytobenthos
These organisms are microscopic, unicellular or filamentous. Microphytobenthos normally live in sedimentary shores, according to Wehr and Sheath in the book "Freshwater Algae of North America: Ecology and Classification." Common microphytobenthos species living on the bottom of North-American rivers, lakes and sea coasts include: Navicula Gyrosigma Nitzchia Diploneis Plagiotropis Amphora Fallacia Cylindrotheca Euglena Staurophora
Macrophytobenthos
According to the 4Seas Project, macrophytobenthos include green algae (Chlorophyceae), brown algae (Phaeophyceae), red algae (Rhodophyceae), and plants of the family Potamogetonaceae.
Green Algae
These algae or seaweeds are rich in chlorophyll that gives their characteristic color. They can live in the benthic zone as individuals or colonies. These are common species: Zostera marina (eelgrass) Ulva lactuca (sea lettuce) Cladophora rupestris Codium fragile (spongeweed) Codium tomentosum Monostroma grevillei Spongomorpha aeruginosa
Brown Algae
The dominance of the pigment xanthophyll determines the brown color of these algae. According to Michael Guiry's Seaweed Site, there are about 1800 species of brown algae, most living in marine environments. Some examples: Fucus vesiculosus (bladderwrack) Ascophyllum nodosum (Norwegian kelp) Sargassum sp Macrocystis pyrifera (giant kelp)
Red Algae
There are 6000 described species of red algae, as stated in Michael Guiry's Seaweed Site. The red color results from the pigments phycoerythrin and phycocyanin. Examples include: Atractophora hypnoides Gelidiella calcicola Lemanea fluviatilis Lemanea fucina Palmaria palmata (dulse) Schmitzia hiscockiana Chondrus crispus (Irish moss) Mastocarpus stellatus (false Irish moss) Ceramium
Potamogetonaceae
Potamogeton, the only family of macrophytobenthos able to produce flowers and fruit, is the largest genus. Some species: Zannichellia palustris (horned pondweed) Potamogeton alpinus Potamogeton pectinatus (fennel pondweed) Lepilaena marina Lepilaena preissii Althenia Groenlandia Stuckenia