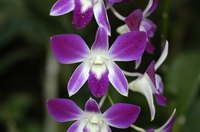 Singapore is among the world's most densely populated countries, according to Asia travel website Things Asian. Only 3 percent of its area is devoted to agricultural uses. Currently, Singapore's top fresh-food suppliers include Australia, Brazil, Indonesia and Malaysia. Hydroponics-based farming methods are suitable to help Singapore rely less on imported food and water, even in its crowded urban environment.
Climate and Topography
The island originally was covered with tropical rain forests and fringed with mangrove swamps. Since the founding of the city in 1819, the natural landscape has been altered significantly. By 1988, Singapore's land area was 49 percent built up, and forest covered only 2.5 percent. Three water reservoirs and their reserve catchment area occupy the island's central region. However, water must still be imported from Malaysia to fully satisfy Singapore's needs.
In this tropical setting, outdoor hydroponics would be the ideal method to grow practically all of the crop types that used to be grown in soil on the island, but with much higher crop yields, with fewer problems from soil-borne microbes and pests, and with much lower water consumption.
Little Agricultural Land Left
Singapore has a total area of 284 square miles, and only about 3 percent of that area is devoted to agricultural uses. The agricultural sector once thrived. In the 1960s, there were an estimated 20,000 farms spread over about 34,580 acres. Today, there are only about 228 farms occupying just 1,749 acres.
Vertically oriented, solar-assisted hydroponics systems are projected to produce as much as 20 times the yield of conventional farming, while using only about 5 percent of the water and a small fraction of the land and nutrients necessary to farm using conventional soil-based methods.
Rooftop Hydroponic Microgardens
Using the aeroponics method of hydroponics, Singapore-based Aero-Green Technology Pte Ltd. is advocating the widespread use of soilless rooftop gardening and farming. Professor Lee Sing Kong, an advocate for Singapore's development and adoption of aeroponics, has proposed the more-efficient use of rooftop spaces in urban Singapore Island. He sees the use of aeroponics in this setting as beneficial for aesthetics, increased food production and energy conservation.
Lightweight aeroponics technology is ideal for horizontal rooftops and vertical or sloping roofs that are oriented to face the sun. With aeroponics growing systems, a plant's roots don't need to be submerged in nutrient water, so the growing unit does not have to be maintained in a horizontal orientation. The roots are periodically misted with the nutrient solution, and the atmosphere surrounding the root systems is maintained at 100 percent humidity.