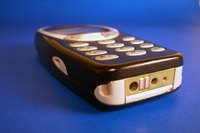 Criminals who obtain your credit card information--including your name, address, account number and expiration date--can use this information to make illegal purchases. One way that criminals get this information is through credit card verification scams: Posing as customer-service employees or telemarketing agents, the criminals trick card holders into willingly providing the information they seek. If you own a credit card, you should be alert for a number of these scams.
Fake Order Verifications
The Verizon phone company warns about a common scam in which a caller claims to be processing an order made online or over the telephone and says he needs your card number, expiration date, and verification code to complete the transaction. If you say you don't remember placing the order, the caller may reply that your spouse or another family member placed it. Don't be fooled just because the caller names someone in your family or provides your home address--this information is readily available on the Internet. Always remember that no legitimate company will ever ask for credit-card information during a call that the company itself has initiated. When this happens, you can bet that someone is hoping to make fraudulent purchases in your name.
Fake Security Alerts
Many banks and credit-card companies will call you if they notice a suspicious pattern of activity on your card. When they do, they will ask you to verify certain transactions. However, they will not ask for your account number, Social Security number or other sensitive information. Scammers may also impersonate your bank, claiming that your account is frozen and asking for your credit-card number and other information so they can reactivate the account. Never give this information to a caller. Hang up and call the the toll-free number on your monthly statement or on the back of your card. The bank can tell you if there really is a problem with your card. If no such problem exists, ask to be connected to the fraud-investigation group.
Interest Rate Scams
Another common scam is to pose as a telemarketing agent from a credit-card company. This "agent" will say you are entitled to a lower interest rate and will then ask you to provide your card number, claiming she only needs it for verification purposes. Amelia Cerling, a reporter with WEAU News in Eau Claire, Wisconsin, warns that the criminal may even read you the first number of your account in order to sound legitimate. Be forewarned that everyone has this information: All American Express cards start with 3, Visa cards start with 4, and MasterCards start with 5. You stand to lose hundreds of dollars, with no lowering of your interest rates, if you do give your card number to one of these callers.