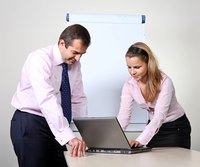 To stay in business, companies must find ways to improve operations and keep costs low. Some businesses have inherent advantages by virtue of their large market share, but this market share can be reduced overnight by firms that achieve a competitive advantage. Competitive advantages are achieved by keeping costs lower than the competition and promoting products with greater success.
Lower Variable Costs
Gregory Mankiw, author of "Essentials of Economics" defines variable costs as expenses that change based on the amount of produced output. For instance, a fast food restaurant's variable costs include the price for meat, buns, cheese and fries. The more meals the company produces, the more it's spending on these items. Hence, companies can gain a significant advantage over competitors offering similar goods by lowering these costs.
Analyze the cost of producing one item and assess if any of these ingredients can be obtained at a lower cost. Also determine how demand is impacted by switching to a lower-priced ingredient. If demand is lowered substantially as a result of using less expensive, lower quality chocolate chips, the switch may not be worth it financially. However, businesses commonly lower fixed costs by purchasing items in bulk for a discount: if your business operation is large enough and you have the up-front cash to purchase items in bulk, do so. Also, negotiate with vendors to get a discount by agreeing to purchase items exclusively from them for the next six months or year.
Lower Fixed Costs
Fixed costs are expenses that are not impacted by the quantity of items produced. Rented space, salaried office workers and equipment are examples of fixed costs. Seek to reduce these costs by allowing office workers the option to telecommute if possible. Negotiate for a reduction in the cost of office space based on the price of vacant lots elsewhere, and buy less expensive office equipment and supplies.
Outsource Operations
If another company is more skilled in a business operation than yours and can achieve the task for less money, outsource. For instance, a contractor textile company in China can produce a t-shirt at a fraction of the cost than a U.S. company. Peter Bararr and Roxane Gervais suggest in their book, "Global Outsourcing Strategies" that instead of assuming responsibility for all business operations, outsource your weakest, most expensive operation. They cite outsourcing as the reason for Japan's success in the automobile industry.
You do not necessarily have to go overseas or have a large manufacturing company to outsource. Small, one-man businesses can outsource: for instance, if your niece can wire wrap a pair of earrings with the same skill as you can, pay her to wire wrap while you focus on an operation only you can perform, such as designing jewelry or marketing your brand online. Though paying someone to do your work might seem like a cut in profit, recognize how much you actually save when you place a monetary value on your time and skills.
Engage in Partnerships
Partner up with businesses to achieve a competitive advantage. Choose a business that offers complementary services to yours. For instance, if you have a jet-ski business in the heart of a tourist city, pair up with the local hotels and offer referrals and promotional materials for the other company.