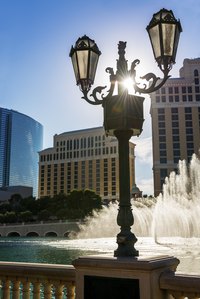 To be a VIP at the Bellagio in Las Vegas, you need to join the M life program. Sign up online or at the M life desk in the casino, and once you're a VIP, you'll begin to earn credits every time you gamble, eat at hotel restaurants, shop, purchase entertainment tickets or enjoy a treatment in the Bellagio spa. This VIP program has a number of tiers, and your tier level depends on how many credits you have earned annually. Credits expire and start over every year on October 1. However, once you reach a new tier level, you're able to enjoy those benefits for a full year.
Sapphire Tier Benefits
VIP benefits start at the Sapphire tier, which you earn when you're up to 24,999 credits. Members get a dedicated reservations line and the privilege of earning express comps when gaming. In addition, you'll earn points toward discounts in the Holiday Gift Shoppe, get room discounts and a 5-percent discount while shopping in any hotel boutiques. You'll pay less for shows at the MGM Resort (an M life partner) and get advance ticket purchasing opportunities when new acts are announced. Finally, you're entitled to a discount through Avis on car rentals made at the hotel.
Pearl Tier Benefits
Once you achieve 25,000 credits in the program, you become a VIP member at the Pearl tier. At this level, you get all the benefits of Sapphire members with a few additional perks, such as invitations to members-only events. Your discount at retail shops jumps from 5 percent to 10 percent and you get exclusive VIP seating at any events or shows you attend. There's also a pass for the buffet line -- no waiting for Pearl VIPs.
Gold Tier Benefits
You move up to Gold tier when you've reached 75,000 credits. All the benefits of Pearl membership apply, as well as a few extras. You'll get room upgrades and a priority line when you check in. You have priority reservations when you want to dine in one of the Bellagio's restaurants and in addition to skipping the buffet line, you also get a pass in the Café. You have VIP access to the nightclubs and the day clubs at the pool for yourself and a guest.
Platinum Tier
At 200,000 tier credits, you are promoted to Platinum. This means you'll get all the Gold membership benefits as well as turndown service in your room, priority access to cabanas and bungalows at the pool and a dedicated phone line that connects you to a personal concierge. You'll have priority spa reservations and an upgrade to a 15-percent discount in shops. You're also entitled to use the hotel's valet service as well as the taxi service.
Noir Tier Benefits
Things get serious when you reach the Noir tier level, which is by invitation only. You get everything a Platinum member gets as well as extras reserved for the Bellagio's most important clientele. This means a 20-percent discount in hotel shops, guaranteed room reservations, no matter how late you wait to book, and guaranteed show tickets as well. You won't have to check in with the masses; instead you'll be ushered to the VIP lounge. Not only is your dinner reservation guaranteed, but you'll also be promised the best table in the restaurant. The limousine service to and from the airport is complimentary and you'll be invited to spend your downtime in the Chairman's Lounge, where staff cater to your every need.